Plenty Of Gas
December 9th, 2020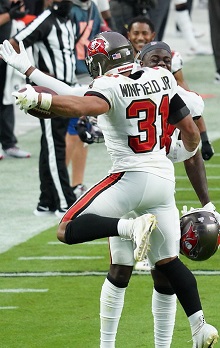 Joe had a simple question for Bucco Bruce Arians today.
"Coach, do you think Antoine Winfield has hit any kind of rookie wall, and if so, do think this bye week really helped him?" Joe asked at the post-practice news conference.
The head coach chuckled.
It seems he had the same thing on his mind this week.
"Yeah, I joked about it with him the other day, but no," Arians said. "He's been more and more prepared than most rookies for the length of the season. But yeah, I don't see it at all in his practice habits or his gameplay."
Joe was glad to hear that from Arians, as Winfield has cooled after his ferocious start that earned him defensive player of the month in September.
Since his game-ending (saving?) play against the Giants a month ago, Winfield has looked, well, like a rookie.
Joe's not complaining; Winfield is a second-round pick having a strong rookie season. As Joe wrote earlier, Joe would be intrigued to see Winfield get more chances as a blitzer. He was a playmaker in that role earlier this season.
Joe can only imagine how pumped Winfield must be to face the Vikings on Sunday. His dad was a stud cornerback there for nine seasons, three of them Pro Bowl years. And Winfield himself went to the University of Minnesota.
A guy or two on this defense really needs to rise up and have a massive game Sunday. Why not the lone rookie?
---
It's today's new Ira Kaufman Podcast, presented by Bill Currie Ford!