Ira Kaufman's 10 Takeaways From Bucs-Lions
December 27th, 2020
BY IRA KAUFMAN
Everyone in the Buc organization hated to hear those damning words.
Writing it was no great thrill, either.
On a relatively frigid afternoon in Tampa, the Bucs warmed the hearts of their supporters with a record-shattering victory in Detroit. Following a 47-7 walkover, this organization no longer has to deal with the phrase that is etched into my computer screen: The NFC's longest playoff drought.
The drought is over and this team's real agenda is about to start.
"It's just the beginning," Bruce Arians said after the Bucs registered the most lopsided road win in franchise history. And yes, Arians was correct — it was all about the beginning.
With Buc Nation aghast at Tampa Bay's pattern of slow starts, Tom Brady took charge from the opening snap. Perhaps Arians set a new tone by winning the coin toss and electing to receive rather than deferring the game's first possession.
Arians was intent on changing the tune in Motown and Buc fans seconded that emotion. This passing game was so prolific in the opening half, it's conceivable Brady might have set the all-time mark for most passing yards by an NFL quarterback in a single game.
He had 348 yards at the break and the hapless Lions offered little resistance. Hall of Famer Norm Van Brocklin's record of 554 passing yards, set in 1951, appeared in serious jeopardy until Arians made the smart move and told Brady to take a seat.
There are bigger goals dead ahead.
"When we play the way we're capable of playing," Brady said, "we're tough to beat."
The Lions were a bad team with Matt Stafford and they were helpless once he limped off. Add in a half-dozen coaches who missed the game because of COVID concerns and the Lions were outmanned from start to finish.
But that shouldn't take away from the efficiency and ruthlessness the Bucs displayed on both sides of the ball in improving to 10-5. While the NFC's No. 5 playoff seed is now within their grasp, hitting the road doesn't seem particularly daunting with Mr. Brady under center.
Here's how the Bucs treated the Lions like roadkill during a rollicking Saturday in the Park.
* The last 90 minutes played by the Bucs should scare the daylights out of any potential playoff opponent. In the past six quarters, they outscored the Falcons and Lions by a combined margin of 78-17. They are peaking at the right time and a sweep of the Falcons would give Tampa Bay a 4-game winning streak entering the postseason.
* The offensive line gave Brady ample time to go to his second and third reads. If he gets that kind of protection going forward, Brady will light up defensive backs. The Lions posted only two QB hits all day, which was one less than Devin White by himself.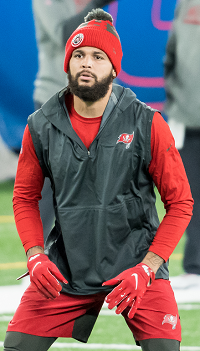 * Mike Evans is on a serious roll — which spells trouble for Atlanta and all future opponents. He was targeted 12 times and caught 10 passes for 181 yards, leaving him well within range of another 1,000-yard season. Arians and Brady want Evans to keep the streak going, so good luck stopping him, Falcons.
* The only blemish on the day was poor special teams play. Ryan Succop missed a FG try and two extra-point attempts while the Bucs allowed a 74-yard punt return for Detroit's only score. Assistant coach Keith Armstrong has some work to do next week.
* The Bucs finished 6-2 on the road, a mark that usually generates a playoff berth. Wild-card teams rarely end up in the Super Bowl, but Tampa Bay's last trip to the playoffs ended with a home loss to the 2007 wild-card Giants, who went on to shock the 18-0 Patriots.
* The victory had great personal meaning for Arians, who will soon be preparing for a playoff opponent for the first time in five years. "It means the world," Arians said. "This is why you coach — you want to get a chance to win a championship."
* Anyone still questioning Brady's arm strength? While the Lions didn't have a snap that gained more than 20 yards, the Bucs gained 20 or more yards on 10 occasions — including five strikes to Evans. Brady kept looking downfield and his targets kept getting wide-ass open.
* Through 14 games, Detroit had allowed a league-high 56 touchdowns. Saturday's drubbing didn't help and the Lions didn't help themselves with 11 penalties for 117 yards, four yards more than they mustered through the air.
* The Bucs set a franchise record by rolling up 588 yards, including 410 in an opening half that had to be seen to be believed. Tampa Bay ran the ball well and threw it in spectacular fashion. Even Blaine Gabbert dipped his beak into some of that gravy with two second-half TD throws. Yes, Blaine Gabbert.
* Ho-hum, another day with a game-high 10 tackles and a sack for Devin White. Now he gets another shot at Matt Ryan, the statue he dumped three times in the fourth quarter last week. White needs one more sack to reach double digits in his second pro season. Like Evans, he's going to get his milestone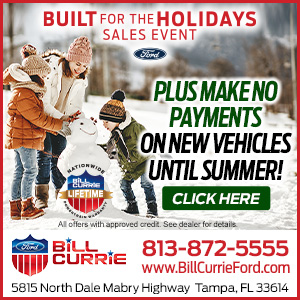 Joe's good friend Sean Sullivan, the general manager of ⁦@BillCurrieTampa⁩, is ready for the playoffs. Imagine tailgating at a Bucs game in a new 2021 Ford Bronco Sport. Bill Currie Ford has them. Stop in and talk to Sean (about that Alstott jersey, too). pic.twitter.com/4HxSkZSPjs

— JoeBucsFan (@JoeBucsFan) December 16, 2020