"I Appreciate That Coming From Coach"
December 8th, 2020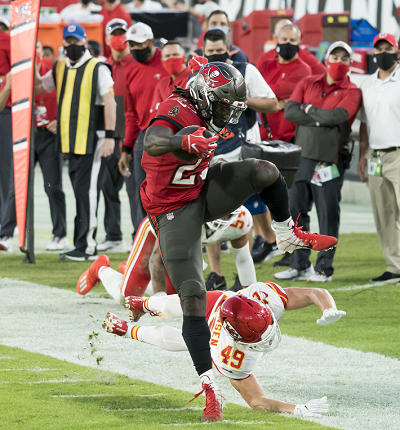 Barring beastly production from Ezekiel Elliott tonight in Baltimore, Bucs running back Ronald Jones will be the NFL's fourth-leading rusher through 13 weeks of this season.
Incredible!
What an accomplishment by RoJo, whose 820 rushing yards only trail all-world backs Derrick Henry and Dalvin Cook, and super rookie James Robinson.
That kind of production got RoJo an interview on NFL Network during the bye week and, interestingly, host Andrew Siciliano floated a theory to RoJo that Bucco Bruce Arians sends messages to Tom Brady via the media.
Siciliano claimed one example is Arians publicly saying last week that RoJo "needs to have 20 touches" per game.
Joe had to smile when RoJo seemed to agree with Siciliano and said he believes those messages are received. RoJo also said, "I appreciate that coming from Coach."
Joe really finds the notion of Arians sending cryptic messages to hilarious and scary at the same type. Hopefully, one of the NFL's oldest coaches simply talks openly with the NFL's oldest quarterback about what's needed to succeed.
The Bucs are enduring "every team's best shot" given their status this year with Brady, RoJo noted, and that gives each game a "different feel."
Joe hopes that's been the case. Because Sunday against the 6-6 Vikings should feel like a playoff game, and perhaps the Bucs won't be rattled by the pressure.