Devin White Wins Second Player Of The Week Honor
December 23rd, 2020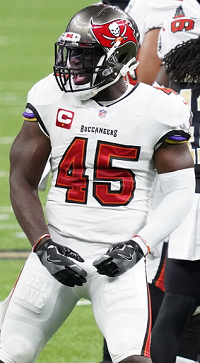 Can Devin White put the Buccaneers' defense on his back?
Maybe White will be the guy who steps through to be the major playmaker for the defense in the playoffs. Somebody has to become that guy, and White flashed that kind of December brilliance on Sunday.
It earned him the NFC Defensive Player of the Week award for Week 15 — eight weeks after he won it for the first time after the Bucs pounded the Raiders.
Per the Bucs, White is the only NFL player with multiple games of three sacks and 10-or-more tackles in the past 20 years. He also is the only player in team history to record double-digit tackles and three or more sacks in a game.
And to put icing on the cake, White is the only NFL player with at least 100 tackles five sacks this season.