December Heat
December 19th, 2020
BY IRA KAUFMAN
Can't you see it, Buc fans?
Can't you envision the Bucs in the late stages of a tight playoff game at Green Bay or Seattle next month? Think about Tampa Bay trailing 24-20 with 45 seconds remaining, facing fourth-and-goal from the 7-yard line.
As Tom Brady breaks the huddle with the entire season at stake, he's got one guy on his mind. Mike Evans is doubled in the corner, Chris Godwin is jammed at the line and a pass rusher is closing in on Brady.
He's got to get rid of the football — now.
So there is No. 87, using that big body to shield off a defender and haul in the game-winning TD pass. No surprise there. When January rolls around, you can expect Brady to come down with a strong case of Gronkitis.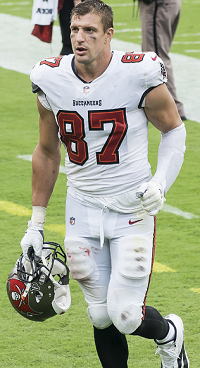 In case you haven't noticed, Rob Gronkowski is coming on strong.
He didn't reach the end zone during his first five weeks as a Buccaneer, but the last eight games have generated five scoring catches. It's no coincidence Tampa Bay has been one of the NFL's most successful teams in the red zone this season.
Gronkowski's presence near the goal line is a major factor.
"I think he's gotten better and better," Bruce Arians said Friday. "Hopefully, we can continue to get him the ball when it counts."
It will count most in the postseason, which is where the 2020 Bucs are headed, barring a complete collapse. At the age of 31, Gronkowski has lost some jump off the snap, but he remains a significant asset.
According to tight ends coach Rick Christophel, Gronkowski is making steady progress.
The Bucs have been careful about monitoring Gronkowski's workload during the week and on game day.
"You don't say he's on a pitch count, but you kind of watch some of the reps he takes and try to make sure we're getting him in the right position and the right places at the right times," said Christophel.
It's all about giving this future Hall of Famer a prime opportunity to be at his best for a prolonged playoff run. History tells us Brady and his tight end have been particularly productive during the postseason.
In 16 playoff games, the equivalent of one full regular season, Gronkowski has 81 catches for 1,163 yards and 12 touchdowns. He's been targeted an average of eight times per game during those matchups.
"He is a mismatch in certain situations, that's for sure," Arians says.
Autumn leaves are falling and Gronkowski's production is ramping up.
"December football is always huge, no matter what the situation is," he says. "If we want to get to the playoffs, we've got to win these games. It's basically playoffs every single week right now."
The clubs that are successful in the postseason don't settle for 24-yard field goals. They don't let other teams hang around. If the Bucs are serious about posting their initial playoff victory since dismantling the Raiders, Gronkowski figures to be a key factor.
He's been there before, lots of times. He has earned Brady's trust, lots of times.
When the football field shrinks, Gronk looms larger. He welcomes the big moments — and they're coming for this football team.
Fourth-and-goal in crunch time … who ya got?
Brady's got No. 87.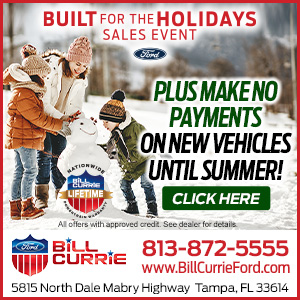 Joe's good friend Sean Sullivan, the general manager of ⁦@BillCurrieTampa⁩, is ready for the playoffs. Imagine tailgating at a Bucs game in a new 2021 Ford Bronco Sport. Bill Currie Ford has them. Stop in and talk to Sean (about that Alstott jersey, too). pic.twitter.com/4HxSkZSPjs

— JoeBucsFan (@JoeBucsFan) December 16, 2020