Cowboys, Giants And Washington In Play To Win NFC East, Potentially Face Bucs
December 28th, 2020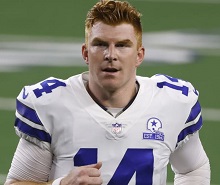 It's a party of bad football teams in the NFC East, as the football gods continue to cater to the 2020 Bucs.
The Cowboys (6-9) face the Giants (5-10) on Sunday, and the winner of that game will take home the NFC East crown if Washington (6-9) can't beat the Eagles in Philadelphia. If Washington wins, they take the division.
Of course, if the Bucs beat the bumbling Falcons in the season finale at the Den of Depression, then Tampa Bay will secure the No. 5 playoff seed and hit the road to face the NFC East winner.
What an incredible setup for the Bucs during this truly incredible (so far) season.
The Bucs, if they win, are guaranteed to get a weak opponent in their playoff opener. Sad sack Washington, playing at home in a must-win game, trailed the Panthers 20-3 at halftime yesterday and lost 20-13. The Cowboys' defense is bad and the Giants have the 31st-ranked offense.