Buccaneers 31, Falcons 27
December 20th, 2020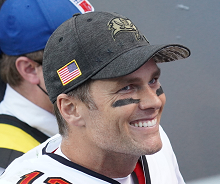 Today was textbook 2020 Buccaneers football — and textbook Falcons football.
It's why one team is 9-5 and the other is 4-10 and looking for a new head coach.
Man, the Bucs have become cardiac kids. Spotting the crappy Falcons a 17-0 lead on the road? No problem.
Yeah, it's a big problem if you want to be a Super Bowl team, but today Bucs fans will take it.
What a ferocious finish for Tom Brady, who racked up 390 yards on 31-of-45 passing, 2 touchdowns and no picks.
Leonard Fournette was no Ronald Jones, but he did a good job helping ice game late and pounded in two TDs on the ground. It was the most points scored on the Falcons since Raheem Morris took over the head coaching gig 2 1/2 months ago.
Typical Bucs defense, smothering on the ground, very shaky against the pass and enough pass rush to close out a game, with Devin White joining that pass rush for a change.
Joe is not complaining, not today. One more victory and the Bucs are in the playoffs. It's that simple.
Beastly days for Mike Evans and Antonio Brown, which is how it should be when you have this many freakin' weapons.
The Bears (7-7) beat the Vikings (6-8). So erase the Vikings from the Bucs' playoff picture and remember the Bears still own a head-to-head tiebreaker on Tampa Bay.