Buccaneers 26, Vikings 14
December 13th, 2020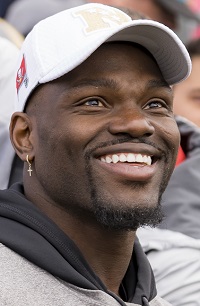 Ya Gotta Believe! 
Who needs fast starts? Not the Bucs. Not when they can put their foot on the gas and the other team's kicker sucks.
Joe is fired up!
The Bucs have snapped their two-game losing streak — and their three-game home losing streak — and sitting at 8-5 in prime playoff position.
Finally, finally, finally, the Bucs looked like a playoff team. No, they didn't look like a good playoff team, but a playoff team nonetheless. Now it's time to get sharper over the final three games.
Two huge sacks by Shaq Barrett today. And props to Antoine Winfield, Jr. and Anthony Nelson for stepping up big-time. Joe loved seeing Todd Bowles ask more of Winfield as a blitzer. And ultimately, the Bucs' pass rush was far too much for the Vikings.
The Bucs' offense? It's still inconsistent but it's also still very dangerous.
Huge kudos to Scotty Miller for catching the big, crushing Tom Brady touchdown bomb in the second quarter. And yes, Joe saw Miller get hit in the face just before the catch.
Very solid day by Ronald Jones and Joe loved seeing some vintage LeSean "Shady" McCoy help put the game away in the second quarter.
What a day!