Brady Now Has 30 Touchdowns & 11 Interceptions
December 13th, 2020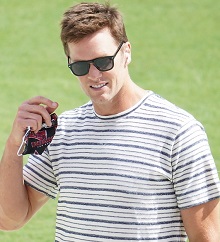 What a difference a year/a quarterback makes.
Tom Brady is hardly perfect, but he's not a turnover machine and a weekly threat to throw games away.
After a good-enough kind of day today against the Vikings (15-for-23 for 196 yards and 2 touchdowns with 0 picks), Brady now sits with 30 touchdowns and 11 interceptions for the season.
With three games to play, Brady is three TD passes shy of Jameis Winston's franchise record of 33 touchdowns, but Jameis complemented that total last season with an unconscionable 30 interceptions. Consider that not one NFL quarterback this season is on pace for 20 interceptions. Not one.
Brady has work to do when it comes to figuring out the Bucs' slow starts, but he's surpassed or met everyone's expectations as he captains an 8-5 Bucs team at 43 years old.
Joe appreciates witnessing Bucs and NFL history watching Brady. And Joe is fired up that Brady has three games remaining against bad pass defenses to feast upon. Joe would be a few Bucs that Brady finishes with 35 touchdowns.