Bruce Arians Talks "Mush Yards" & Tackling Fixes
December 16th, 2020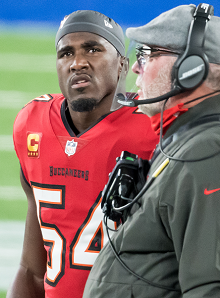 Interesting comments about Sunday's bending Bucs defense from head coach Bucco Bruce Arians.
Against the Vikings, it was very much a mission accomplished for the Bucs defense, though it wasn't all roses and daises. There was a plenty of stink in there with "14 missed tackles."
The poor tackling — the Bucs missed the same total against the Rams — was very much on Arians' mind last night during his official team radio show.
Arians suggested that the Bucs have been sloppy in practicing when it comes to tackling and he suggest a fix.
"When you're practicing, break down just don't tag people. Break down and get in good tackling positions and we'll tackle better," Arians said.
Joe found that line especially interesting considering last week defensive coordinator Todd Bowles said the bye week very much was about returning to fundamentals.
As for the Bucs' run defense looking very average against Minnesota when it usually is elite, Arians said the run defense was victimized by the tackling, some poor position play and less safety involvement in order to prevent big pass plays.
"More of us mis-fitting a couple of run fits, which gave them two gashers; we were not in the right gap," Arians said. "And then just missing tackles, hitting them at two yards and they gain five. Little things like that, mush yards, I call them. But the big runs, we were really mis-fitting or just missed the tackle straight out."
Blocking and tackling never go out of style.
On Sunday, the Falcons should provide a great tonic, a Dirk Kotter offense that can't run the football. Atlanta ranks 30th in yards per rushing attempt.
---
Ira Kaufman Talks Coaching Victories, Good Breaks, Changing Pass Rush, Tom Brady's Slow Starts, The Drive For No. 5 & Much More