Bruce Arians Says Tom Brady Is A Pro Bowler, "He's Not Getting Enough Credit"
December 16th, 2020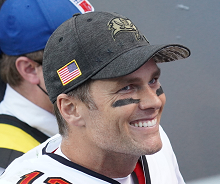 The Bucco Bruce Arians/Tom Brady love affair enjoyed a special moment today.
No, Joe never bought any of the nonsense that Brady and Arians didn't get along. That was such silly talk considering Arians got his guy, Brady got his players and power, and the Bucs have had a good record.
Talking about Brady with Joe and other media today, Arians was adamant that Brady "is not getting enough credit for what he's doing."
Joe asked Arians how many worthy Pro Bowlers he has on his roster (fan voting ends tomorrow), and Arians called out names while he seemed to struggle for an answer.
"Shoot. A bunch. A bunch," Arians replied.

"I mean, I wouldn't even know where to start. Defensively, obviously JPP, [Ndamukong] Suh, Shaq [Barrett], Lavonte [David], Devin [White], Carlton [Davis]. Offensively, I think Tom [Brady] has had a Pro Bowl year. A bunch of guys – Ronald Jones, guards, tackles – whoever the fans want, man, we've got a bunch of good guys playing really, really well."
Yes, the Bucs have a dream team — and real dream teams make the playoffs and win when they get there.
The last Pro Bowl quarterback wearing Bucs colors was the rookie version of Jameis Winston, who needed multiple QBs to bow out of the Pro Bowl to get the call. This year, there is no Pro Bowl game, so the honor will carry more weight than usual.
Is Brady worthy of the Pro Bowl? Probably not considering the competition in the NFC. You could make a great case that Aaron Rodgers, Russell Wilson and Kyler Murray are having better seasons.
Regardless, there are three games to play and Brady is having a fantastic season. Joe voted for Brady and so can you.