Bruce Arians Says Bucs Will Play Full-Throttle In Finale
December 28th, 2020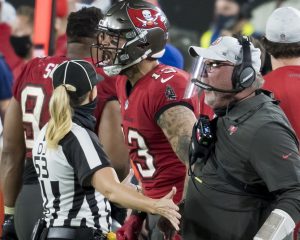 No breaks for the Falcons on Sunday.
That was the word from Bucco Bruce Arians this afternoon.
Arians said he considered resting players in the season finale but all the players he talked to about it insisted on playing. And Arians also talked about wanting to go 11-5 for pride and the No. 5 overall seed. The head coach emphasized that's not about caring who the Bucs will face in the opening round, just a desire to go out strong.
"11-5 is special," Arians said.
It is special, though Joe would like to see Rob Gronkowski and Jason Pierre-Paul get the day off.
Regardless, Joe likes the mentality. Maul the Falcons and keep on rolling.