"We Aren't Learning"
November 28th, 2020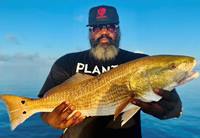 Former Bucs offensive guard and current popular local sports radio personality Ian Beckles doesn't like what he is seeing.
He sees the Bucs wanting to play a certain brand of football, despite lip service to the contrary. That brand of football is throw, throw and throw some more, preferably deep.
The problem with this, Beckles said, is when your quarterback can no longer throw deep — while you just boxed yourself in for a long game.
Beckles took to his podcast, "In the Trenches," to sound off on the Bucs. Beckles is incredibly frustrated because he's got bad vibes the Bucs will take what was a 7-2 record and find themselves in five weeks clawing just to have a chance at a wild card berth.
"The Bucs are lucky that was a competitive game because I thought they got grossly outplayed," Beckles said of the loss to the Rams. "After you watch that game you have to ask yourself, 'What are we hanging our hats on?' What have they done the most consistent this season? Any good team you asked me what they do and I will say, 'This, this, this and this.'

"It seems like we have a schizophrenic type of team. One week Brady is the most accurate and the next week he's the least accurate. One week our running backs go off. The next week our running backs suck out loud. One week our DBs look fantastic and the next week they look the worst in the league. One week we have a good pass rush another week we let a quarterback come in our house on Monday Night Football and let the quarterback throw the ball 51 times and barely touch his arse.

"Zero sacks on 51 passes. That's not winning football everybody. To not be able to run the football, and to not be able to rush the passer, they don't go together."
On running for 42 yards two weeks after rushing only five times:
"We aren't learning." … "When you've got two, you've got none. Neither one of them are worth a darn. They really are not. RoJo's not a great running back, man. No way. He can't catch at all and neither can [Leonard] Fournette."
Beckles was particularly outraged that Jalen Ramsey stopped RoJo in his tracks for no gain on a play where RoJo had Ramsey one-on-one in the open field. Beckles said no running back worth his salt doesn't get YAC on a corner in the open field, at least two or three yards.
On the offensive line:
"They are not physical at all. They need Ali Marpet back. They weren't godawful protecting the passer."
On playing what he thought was dumb football:
"We made enough mistakes to keep those clowns in the game." Beckles harped about offsides penalties on third-and-short on defense. "You've got to be better than that. You've got to be better than that."
On Tom Brady:
"He's looked as bad as I have seen." Beckles said having a quarterback throw 48 times for only 216 yards is "grossly inefficient."
On receivers:
Beckles loved, loved, loved the "incredible effort" from Mike Evans and Chris Godwin to score touchdowns. May have been his favorite things from the game.
On Antonio Brown:
"He's way down the list" of people to point fingers at for the loss.
On foot-rubbing, car-littering tight end Rob Gronkowski:
"He's getting paid a lot of money to get two catches a game and be a blocker. But we don't run the ball! We don't run the ball worth a darn!!!"
On Jamel Dean:
"Mmm… He's a terrible defensive back and he makes up for it by not having good footwork or ever being in the right place. Hhheee sucks, OK?"
On the linebackers:
"Everybody upfront sucked. All the linebackers, Shaq Barrett, JPP — JPP had an interception, great. That's just a heads-up play. I'd rather he get the quarterback, OK? Shaq Barrett, y'all got a lot of money. I like the way he plays. He plays hard. But you are playing against a backup left tackle. And I didn't hear your name much. You are supposed to have two-and-half sacks in that game. Fifty-one passes attempts. Fifty-one. With a pretty good quarterback in Jared Goff, but he's not that."
On Scotty Miller:
"I keep hearing people call for Scotty Miller. 'We need more Scotty Miller." Well, here is why Scotty Miller is not playing: He's not better than anyone on the field. … We have great receivers out there."
On beating the Chiefs:
"Crazy things happen. But that would be really crazy. Let's hope that is the case this week."
Beckles added that if the Chiefs get their wide receivers "wide-@ss open" like the Saints and the Rams did, the game will be a "bludgeoning."
As always, Beckles welcomes feedback and encourages listeners to submit Bucs questions by e-mailing him at IanBeckles@RadioInfluence.com.
---
FIRE UP THE IRA KAUFMAN PODCAST, presented by Bill Currie Ford.
Ira Kaufman Talks "Ornery" Tom Brady, Chiefs-Bucs Predictions & Keys, Jason Licht "Feather," Lineup Changes, And More