Tom Brady Talks No-Playoffs Teammates & 2015 Lesson
November 19th, 2020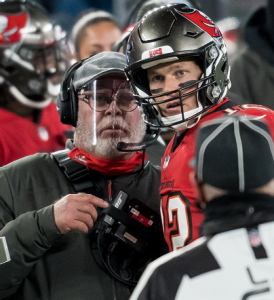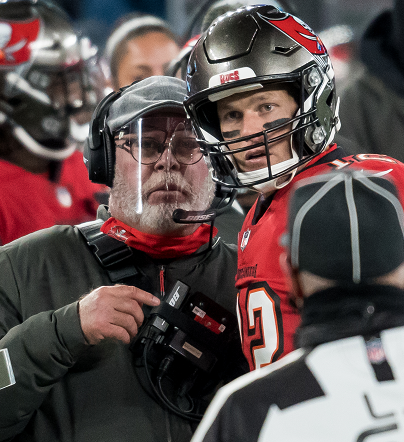 Tom Brady graced the satellite radio airwaves this morning with his former playcaller and mentor.
That would be renowned retired NFL offensive coordinator Charlie Weis on SiriusXM NFL Radio.
Yes, Joe realizes many fans think Weis is a joke because of his college coaching days, but he was there for Brady's early development in New England and got Pro Bowl seasons from quarterbacks Vinny Testaverde (Jets) and Matt Cassel (Chiefs). That's a resume a lot of coaches would kill to have, and Joe respects Weis for that.
Weis, who calls Brady "Tommy," asked Brady what it's been like for his Bucs teammates to be thrust into so many night games because he rolled into town, and whether that's been an eye-opener for them.
Interestingly, Brady seemed to think a bigger deal was him realizing most of his teammates haven't played a big game in January.
"I think for a lot of the guys, a lot of the guys on the team have never made the playoffs," Brady said. "And that was, for me, you know I want them to experience that. It's an amazing part of being a professional player when you get that time in the year."
Brady went on to say he also has teammates with playoff experience and the goals for the team are huge.
As for where the Bucs stand now, Brady noted his experience in 2015, when the Patriots were 10-0 and stumbled to 12-4 finish and lost in the AFC Championship game. He said that team wasn't as good as they thought they were when the record it 10-0. It was as if the Bucs' commander was saying it's way too soon to assess the Bucs.
Brady showed a bit of his frustration in learning his teammates, though acknowledged it's a league-wide phenomenon.
"..Social distancing, you know, you can't do anything outside the facility together," Brady said. "You know, everyone's gotta stay apart and not talk to anybody. Well that's a really hard thing to do to develop a lot of trust and a lot of, you know, a relationship that's deeper than catching passes and handing off the ball and so forth."