Three Key Sunday Losses To Help Lock Down A Wild Card Spot
November 29th, 2020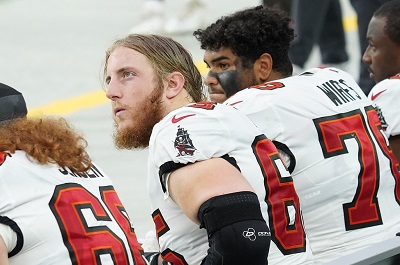 The Bucs are in phenomenal shape to earn their first playoff trip in 13 seasons, and three non-Bucs games on the NFL docket today are key for Tampa Bay's chances.
The big one is reeling Chicago (5-5) at Green Bay (7-3). The Bears are the Bucs' big threat because they own a wild card tiebreaker if the Bucs and Bears tied at the end of the season. (Three-way tiebreakers are a different formula.) If Chicago loses, does anyone think they would/could run the table to finish 10-6?
Chicago still must play the suddenly surging Texans (4-7 after starting 0-4), and play another road game at Green Bay, and the Vikings on the road. They also have the schedule gifts that are the Jaguars and Lions.
Another key game on today's schedule is the Panthers (4-7) at the Vikings (4-6). Minnesota has the Jaguars next week. So if they beat the Panthers and the Jags, they'd be fired up at 6-6 to face the Bucs in Tampa on Dec. 13. So Joe must hold his nose and root for The Stinkin' Panthers today.
The 49ers (4-6) do not concern Joe. They play at the Rams (7-3) this afternoon and have a brutal schedule ahead. Today probably ends the 49ers' season, but Joe would be pleased to see the Rams take a loss, which has potential to help the Bucs' seeding.
As of today, the Bucs hold the No. 2 (of 3) wild card position, one game ahead of the Cardinals (6-4).
So Joe is a huge Patriots fan today. The Cardinals head to New England at 6-4. After today, the Cardinals still have the Rams twice on their schedule plus late-season clashes with the 49ers and Eagles, who might be playing for the NFC East title at that point.
If the Bears, Rams and Patriots win today, then no matter what happens to the Bucs against the Chiefs, expect the Bucs' playoff chances to jump up to about a 95 percent likelihood on the various spreadsheets run by probability nerds.
That scenario would set up the Bucs to deliver a knockout blow to the Vikings on Dec. 13, after the Bucs' bye week. And if that happened, only the quarterback-free Bears would remain as a challenge to the Bucs' wild card hopes.