The Throwaway Artist Didn't Throw It Away
November 29th, 2020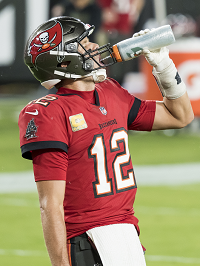 Tom Brady came to our beloved Buccaneers as one of the greats in the game at throwing away a football when a play isn't there.
Today, his failure to do that cost the Bucs the game.
There were the Bucs driving late in the third quarter and trailing the Chiefs 27-10. It was 2nd-and-9 on the Chiefs' 24 yard line. The Chiefs' blitz came quickly at Brady and Mike Evans had defenders around him about four yards beyond the line of scrimmage.
Great time to throw it away, right? Nope. Brady forced the ball and hits a defender in the helmet. Interception!
That simply can't happen. And the frustrating thing is Joe has seen Brady fire that pass out of bounds or in the dirt what seems like dozens of times.
Why? Why? Why? What a head-shaker. Brady knows how to live for another down; he's not Jameis Winston.
Former Bucs tight end Dave Moore, the Bucs' official radio analyst, knocked Brady for inconsistency today and a missed touchdown-pass opportunity for Rob Gronkowski.
It's fair criticism. And next time, throw the damn ball away!