The Find Of The Decade
November 3rd, 2020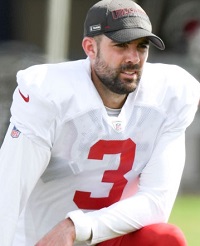 In what's even more stunning than the Bucs run defense having a minor hiccup in tonight's win against the Giants, the Bucs won a game on the back of their kicker.
You know it's a unique season when the Bucs have a good kicker and win a road game in windy and cold conditions with behind four field goals. That's what happened tonight as newcomer veteran Ryan Succop drilled field goals of 37, 40, 43 and 38 yards.
Through eight weeks, Succop has made 15 of 17 field goal attempts. That's an 88 percent conversion rate, which is 13th-best in the NFL. (Didn't you think it ranked better than that?)
Major love for Bucco Bruce Arians, Jason Licht and whoever had a hand or a foot in selecting Succop after the parade of garbage kickers the Bucs have trotted out for years.
Yeah, Joe may be jinxing the guy, but that's doubtful. Succop has been that good.