The Brady Effect; Night Games Not Included
November 8th, 2020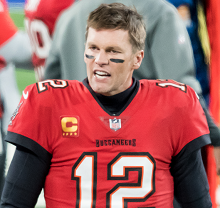 They said it wouldn't happen.
All that culture change talk at One Buc Palace had a clear message: Tom Brady would bring a consistently new day in Tampa Bay.
Until tonight, it was a fun ride. The Bucs were 6-2 and improving since opening day and learning how to win, even when they didn't play their best.
And then came tonight's ass-kicking by the Saints. Joe literally can't find a bright spot in the game, which simply is not supposed to be part of a Brady performance — with a Brady-run locker room filled with talent.
What's quite concerning is the Bucs playing poorly in all three of their night games. Coincidence? Joe's not big on coincidences. They don't look ready for prime time football.
It's one game. It happens, but not this bad. Not with Tom Brady. And it's not supposed to happen at home.
Until the Bucs win again, it sure doesn't feel like the culture has changed.