Snapping The Suh Slump
November 17th, 2020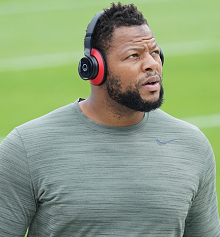 The Ndamukong Suh of the last two games is not the same guy Bucs fans enjoyed in the first half of the season.
It's been a different Suh on the field, especially against the Panthers on Sunday. The film doesn't lie. There were some loafs where there weren't earlier in the season. Overall, Suh appeared less interested than usual.
Joe's really not ripping Suh here for dogging it, just noticing that his effort appeared on a lower level than earlier in the season. He was far less interested in pursuit, and also in joining in on gang tackling. When a guy turns 34 in six weeks and his play in the trenches takes a wrong turn, Joe has to wonder.
Hopefully, it's just a blip on a good Suh season. And up next is his former team on Monday Night Football, the Rams. Joe is expecting a bounce back game from Suh.
The Bucs certainly need it, especially with the nose tackles alongside Suh not matching what Vita Vea delivered before he got hurt.