Second-Half Lockdown
November 15th, 2020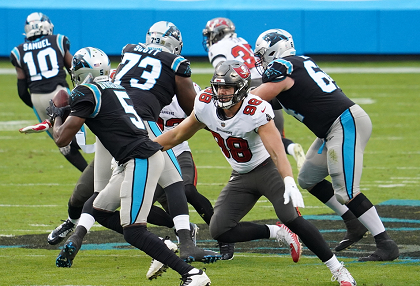 Punt, interception, turnover on downs, touchdown (after a 98-yard kick return), turnover on downs, punt.
Those were the Panthers' second-half drives against a suffocating Bucs defense in the second half of today's 46-23 Bucs win.
It was a beautiful sight for a Bucs defense that had its share of struggles in the past two games.
Still, Jason Pierre-Paul was not happy. It was an incomplete game.
"It's frustrating because we're a better defense than we showed today," JPP said following the win.
But the Bucs' star with a sack and an interception today acknowledged that the Bucs were a universe better than last Sunday when "we didn't come to play."
Joe loved seeing the second-half tackling, as well as the blitzing making its mark and Shaq Barrett's pressure helping cause the JPP pick. In the second half, Joe saw the Bucs defense fans fell in love with earlier in the season.
Yeah, it wasn't perfect by any stretch, but it was more than good enough to support a Bucs offense that put up historic totals.
And a hit tip to Mike Edwards for his pass breakup on a deep ball with seconds remaining the first half that was a hidden key play in the game. Thankfully, he was not caught snoozing like some of his teammates were in those first 30 minutes.