Recent Antonio Brown Allegation Emerges
November 16th, 2020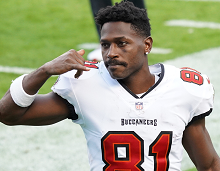 UPDATED 5:50 p.m.
"Open the damn gate!"
Antonio Brown is a magnet for trouble and drama, and it seems he found some just a dozen days before he signed with our beloved Tampa Bay Buccaneers.
(Joe's not casting judgment. It is possible Brown completed a 10-day crash course in anger management before Team Glazer handed him a fat check and welcomed him to the family.)
An extensive Miami Herald report today outlines how Brown freaked out at his Hollywood gated community security gate on Oct. 15. It escalated to become a police matter before the community association decided it wouldn't pursue legal action against a guy known for violent outbursts. The head-shaking details are linked here.
Brown was accused of trashing a security camera, hurling his bicycle at a guard shack and, well, not being very polite about it.
In the latest incident, a security guard called police after a blue Alfa Romeo car pulled up the the guard shack at Hollywood Oaks asking to visit Brown. The guard said Brown had "gate restrictions," which meant that the football player had to be at the gate in person to escort the guest inside.

The report said that not long after, Brown showed up on a blue bicycle and "began to express his anger with her for denying his guest access."

"Why are you wasting my f—ing time, you need to let my guest through the f—ing gate," Brown told the guard, according to the police report.

"Brown then approached the guard shack and began to strike one of the surveillance cameras, causing it to break," the report said. The guard was unsure if he used his hand or some sort of object.

But Brown left — and the guest pulled back around trying to get in. The guard, the report said, again denied him access. Brown returned, cursed the guard and "threw his bicycle at the guard gate arm," causing the gate to get stuck in the up position. The report said Brown got into the blue car and they drove off into the neighborhood.

A Hollywood police officer visited the property manager at Hollywood Oaks, who reported that Brown also entered her office, began cursing at her repeatedly. "Brown called her a racist b—h," the report said.
Joe wonders if the Bucs used the same team of investigators to look into Brown's background as they use to screen NFL Draft prospects? Hopefully there is no crossover there.
None of this is funny, though there's definitely a dark-comedy Buccaneers bent to it all.
If Brown remains on the roster through the weekend, Bucs fans can assume Team Glazer doesn't care about these kinds of shenanigans or already knew about them.
It'll be interesting to see if Roger Goodell's naughty-conduct squad will suspend Brown, assuming this is all new information for them about a guy who just came off an eight-game league suspension two weeks ago because he plead no contest to a felonious attack on a furniture mover.
UPDATE: NFL Network reporter Ian Rapoport got a comment from the Bucs. It didn't say much, but he shared it via Twitter.
Bucs Statement Regarding Antonio Brown:

"We are aware of the reported incident involving Antonio Brown prior to his signing. When Antonio joined us, we were clear about what we expected and required of him. Thus far, he has met all the expectations we have in place."

— Ian Rapoport (@RapSheet) November 16, 2020