Rams 27, Buccaneers 24
November 23rd, 2020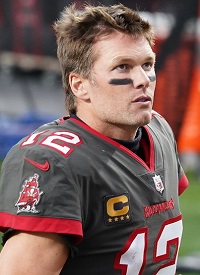 Gasp! The Bucs lost for multiple reasons tonight, but the kick in the gut is that poor quarterback play was a huge factor.
The Tom Brady Effect just wasn't there — and he threw two ugly interceptions. That's not what the Bucs signed up for.
The Bucs gave up on the running game inexplicably, and they seemed far too willing to play the deep-ball game that Brady isn't very smooth with — yet they still put up 24 points on the best defense in the NFC.
What a maddening offense performance. The Bucs offense is good but it had/has so little rhythm, even while holding Aaron Donald in check.
Major love for the what the Bucs defense pulled off in the second half, giving the offense opportunity after opportunity, but even they couldn't overcome their own ongoing issues of failing in zone coverage. Jared Goff and the Rams were 8-of-15 on third-down conversions. That'll get you beat every time.
And the winning field goal was booted by Matt Gay.
What a torturing loss that sends the Bucs to 7-4 and almost out of the NFC South title race.