Painful Miss By The Refs
November 24th, 2020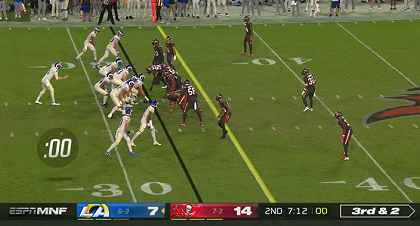 The picture tells the story here, but not the whole story.
As you can see in the screen shot above, the Rams should have been flagged for delay of game on this big 3rd-and-2 play. Instead, the Rams converted a first-down throw, 19 yards to Robert Woods, in part thanks to a hearty Carlton Davis cushion.
Five plays later, Shaq Barrett had a critical offsides on 3rd-and-4 at the Bucs' 12 yard line. And the Rams scored a touchdown on the next play.
What happens if the zebras made the delay-of-game call? We'll never know. But it was a rather bad miss.
Joe's not sure if the Bucs could have thrown a challenge flag there. If so, it was a whiff by Bucco Bruce Arians and staff.
This kind of stuff really sticks out after a kick-in-the-groin loss by three points.