"Nightmare"
November 2nd, 2020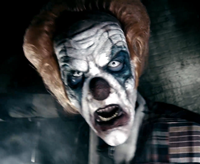 Former Packers wide receiver James Jones can smell it.
And the scent is coming from Derek Jeter's house on Davis Islands.
Jones knows what it takes to win a Super Bowl. He's got a ring himself. So when he saw that the Bucs had signed wide receiver, furniture-tossing Antonio Brown, it meant one thing for Jones: The Bucs are all-in, hellbent on being the first team to play in a Super Bowl in their own home stadium.
In a segment on "Total Access" last week, seen weeknights on NFL Network, Jones and NFL Network's Bucs beat reporter Sara Walsh discussed the Bucs signing Brown.
"First off, the Bucs are trying to win the Super Bowl, and get to the Super Bowl," Jones said. "That's what this [signing] tells me, bringing in Antonio Brown in the building."
And while the Bucs have dogs in the wide receiver room, Jones said now with the Bucs, there is one big dog.
"Listen, this is a talented wide receiver group," Jones said. "But when Antonio Brown walks in this building, he is the best one in that room. Period!"
Jones had one word to describe what went through the minds of defensive backs throughout the NFC South upon learning they now will have to cover Mike Evans, Chris Godwin, foot-rubbing, car-littering Rob Gronkowski, Scotty Miller and now Brown, sometimes all on the field for the same play.
"Nightmare."
You can see Jones' full remarks in the NFL Network video below.
"This is a talented WR group, but when Antonio Brown walks in this building… he is the best one in that room. PERIOD." 😤@89JonesNTAF is thinking Super Bowl for the @Buccaneers 👀 pic.twitter.com/iZ3zV8YAPk

— NFL Total Access (@NFLTotalAccess) October 28, 2020