NFL Network: Brown Bike-Throwing, Camera-Breaking Incident Was Unknown To NFL
November 17th, 2020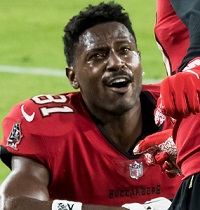 The NFL wants you to know that league police didn't know about Antonio Brown's latest naughty behavior, this time coming in October while he was suspended eight games under the NFL's conduct policy.
NFL Network, owned by the NFL, devoted a TV segment today to let the world know corporate honchos were in the dark about what Brown was doing 12 days before he signed with the Bucs.
NFL Network reporter Tom Pelissero was specific that he's learned the league was unaware of the incident prior to reinstating Brown to play. The league website also notes Brown could be subject to more punishment for his alleged October bicycle-throwing, camera-breaking and woman-berating, as described in the Miami Herald yesterday.
This incident is the latest in a string of off-the-field issues involving the Buccaneers receiver. Brown's eight-game suspension stemmed from two separate incidents: a felony battery charge for attacking a truck driver, for which Brown took a plea deal; and a sexual misconduct case involving a woman. The league also continues to monitor a civil case in Florida, in which a different woman accused Brown of rape and sexual assault. A hearing in that case is set for Jan. 11, less two weeks after the conclusion of the 2020 regular season.
Brown is subject to further discipline from the league if it finds he committed any more violations of the personal-conduct policy.
Pelissero said on television that it's unclear whether the Bucs had any knowledge of Brown's October antics before they added him to the team. (Isn't that a simple yes or no question?)
What a mess that the Bucs really don't need. But considering Brown remains on the roster, it appears to be a mess the Bucs are happy to have. Joe's sure hoping a video doesn't emerge.