Minor Development In Rape Suit Against Antonio Brown
November 10th, 2020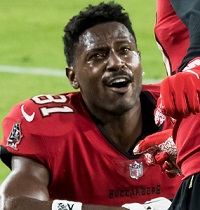 The Buccaneers don't seem to think the ugly accusations against Antonio Brown are legitimate or are a big deal — at least not enough to get in the way of their quest for a Super Bowl.
Still, they're out there, and ProFootballTalk.com wrote up an update in the civil case today.
There's not much new, but Joe's not going to ignore it. If you want to catch up on the heinous details. Click the link to Mike Florio's story.