Bruce Arians Points To Prime Time Excitement As Possible Factor In Losing
November 10th, 2020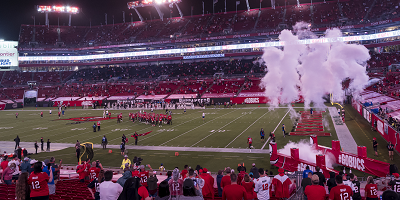 Through 25 games, the Bucs are winners under the Bucco Bruce Arians regime, sitting at 6-3 this season with five remaining games against bad football teams.
But they've also got a clear problem that the head coach addressed this evening on The Bruce Arians Show on WDAE radio.
Host Casey Phillips asked Arians about slow starts and his reply puzzled Joe.
"They've all been night games," Arians said. "And night games, for whatever reason, you know, it's been a 3-and-out and a touchdown for the other team. … It's just something we'll have to go back and look at in our schedules and how we're preparing for night ball games."
The take confused Joe because the Bucs led 10-0 against the Chicago Bears, their first night game of the season. That's not a slow start.
Regardless, Arians was asked if he thinks the attention of prime time was a factor in the Bucs' struggles during three games in the spotlight.
Arians agreed with the premise that his team might be getting too wide-eyed. "Excitement, I don't know if we're losing adrenaline during the day thinking about it, or if we're just not getting prepared properly the 24 hours up to gameday," he said.
Yeah, the Bucs have a night-game problem, one that should have been corrected after they stumbled badly but recovered against the Giants last week.
Why this has happened to a veteran football team with veteran coaches is inexplicable.
Thankfully, the Bucs kick off at 1 p.m. on Sunday in Charlotte. Maybe that will make a difference.
If not, you can cry over your Big Storm beer with fired up Bucs fans and Ira Kaufman at the Big Storm Clearwater taproom at 12707 49th St. North.