Joe Thomas Calls Bucs Bounce Back
November 13th, 2020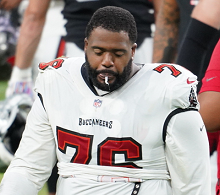 One of the greatest left tackles in history, 10-time Pro Bowler Joe Thomas, has previously shared his appreciation of Donovan Smith and Bucco Bruce Arians.
He even called Arians his top Coach of the Year candidate before the 2020 season.
Thomas now works for NFL Network and, of course, he saw the Debacle on Dale Mabry against the Saints on Sunday night. Joe's still not sure what the hell that mess was, but Thomas has clarity. He projects a powerful bounce back coming for the Bucs against the Panthers in Charlotte on Sunday.
Thomas' prediction was published today at NFL.com: "After one of the worst performances of his 21-year career, Tom Brady bounces back against a better-than-expected Panthers defense. He'll throw for over 300 yards and three touchdowns and lead the Buccaneers to a double-digit win to improve to 7-3."
Joe is intrigued because Thomas wouldn't peg a huge passing day for Brady if he thought Smith was a train wreck left tackle en route to screwing up a season. The Panthers defense is ok, hardly a soft group.
Joe expects a huge bounce back day for Smith after a horror show Sunday night. That's how Smith rolls.
Whoa 💪🏻 @TBBuccaneers pic.twitter.com/xmkywo3PuS

— Joe Thomas (@joethomas73) December 19, 2017