Joe Haeg Would Replace Ali Marpet
November 6th, 2020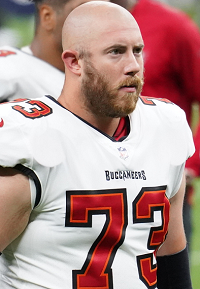 What Bucs fans feared is nearing reality.
Stud Bucs left guard Ali Marpet could sit out the big game Sunday night against the Saints. A concussion is the cause. Marpet entered the league concussion protocol following the Bucs edging the Giants on Monday night, and he's not cleared to play.
Bucco Bruce Arians sounded a little down about that prospect this afternoon an noted that newcomer Joe Haeg, an offseason free agent signing from the Colts, would fill in for Marpet. He's got a load of starting experience, but Joe has to assume if Haeg were true starting quality, then he'd have gotten a multi-year free agent contract somewhere for solid money. He's on a one-year deal with the Bucs for a little over $2 million plus incentives.
Regardless, Haeg is healthy and has been solid for the Bucs  in action already as a sixth lineman. He's well rested, too, playing very few snaps as the Colts offensive line avoided injuries last season.