Ira Kaufman's 10 Takeaways From Bucs-Saints
November 9th, 2020
BY IRA KAUFMAN
Let's go to the highlights.
Ryan Succop didn't suck. Blaine Gabbert took a knee without tripping.
The rain held off, for the most part.
What else ya got?
The most lopsided loss in the unparalleled career of Tom Brady left two announcers and a national TV audience wondering why the Bucs have been generating so much hype. After two weeks of slop, even Tampa Bay's most passionate supporters are questioning the players and coaches operating out of One Buc Place.
After the Week 1 loss in New Orleans, Bruce Arians could credibly say it was the Bucs beating the Bucs. After the Monday night loss at Chicago, mental mistakes and penalties were deemed the primary culprits.
Not this time.
This time, the Bucs were physically manhandled. The trench battle was so lopsided, you couldn't even blame the disparity on Vita Vea and Ali Marpet being sidelined.
The 2020 season isn't over, but it is in jeopardy. And if you think winning in Charlotte will be easy, check out the tape of Carolina's 33-31 loss at Arrowhead, where Teddy Bridgewater and crew just rolled up 30 first downs on a solid KC defense.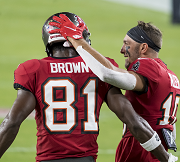 While Drew Brees had time to order up a few Cuban sandwiches from Ybor City, Brady was under siege from the start. New Orleans receivers were open all night, with Buc defenders perfecting the art of social distancing. "It's poetry in motion when it gets going like that," said Alvin Kamara.
The 3-and-out award goes to Byron Leftwich's crew, which can't seem to get its groove on under the lights. As poorly as these guys played, Leftwich deserves his share of heat. The Bucs went 1-for-9 on third down and couldn't score in four cracks from the 1-yard line against a lousy red zone defense.
If the Bucs had New Orleans on their minds during that sleepwalk win in the Meadowlands, they somehow forgot about what it takes to beat the Saints. It takes a pass rush. It takes coverage. It takes a mindset to impose your will.
On one forgettable Sunday evening in November, it all came crashing down. The cannons didn't fire. Brady looked 43. Leftwich and Todd Bowles appeared overmatched. It's hard to believe this team could look so awful in a game this meaningful.
The Saints are now clear favorites to win their fourth consecutive division title. At 6-3, the Bucs are still in good shape to end that 12-year playoff drought. This was a left hook to the chin, but it doesn't have to be a knockout blow. Before the Saints boarded the bus for the drive to the airport, they danced jubilantly in the locker room. Sean Payton and yes, Jameis Winston, showed off their moves while the demoralized Bucs hit the shower.
Brees didn't need one.
Here's how New Orleans toyed with the Bucs while living up to its nickname: The Big Easy.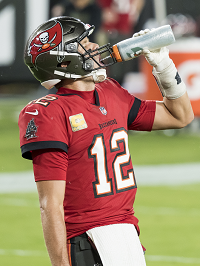 * When you don't pressure a Hall of Fame quarterback, you get your rear end kicked. Brees had way too much time to survey the field and Bowles didn't help with a soft game plan. The Bucs thought they could get there with four pass rushers … they thought wrong. New Orleans has two of the premier offensive tackles in the NFL and they helped keep the pocket clean while Brees methodically went through his progressions.
* On the flip side, Brady was hounded all night. Marpet's absence hurt, but Joe Haeg played alright. As for Donovan Smith and Tristan Wirfs, no such luck. Wirfs is a rookie, going against Cameron Jordan. Let's cut him some slack. After a brutal performance like that, Smith deserves to be cut — period.
* Rob Gronkowski was targeted six times and caught one pass. I don't care if you flunked algebra, do the math.
* Tampa Bay's pass rush was inadequate, but the coverage was just as lacking. Jason Pierre-Paul and Mike Edwards were credited with the only two passes defended. Somebody needs to tell this suddenly beleaguered secondary that off coverage doesn't mean you need to be way off.
* The Saints just threw a perfect game. After a string of close victories, their fifth consecutive win was decided early and they never let up. They did anything they wanted and they did it very well.
This was that rare game where the losing coach can't lament, "A play here and a play there and it's a different result." You can't do that after your opponent has possession for more than 40 minutes.
* If Daniel Jones was a better downfield passer, the Bucs would be 5-4 with a 2-game losing streak. That's a sobering thought for everyone working out of the team facility, including the Glazer family.
* The failure to score from the 1-yard line was a travesty. Run the football, Mr. Leftwich.
* The Giants ran the ball well in the opening half against Tampa Bay and New Orleans just rushed for 138 yards. When the Bucs weren't getting pushed around, their tackling was atrocious. They just made Taysom Hill look like Derrick Henry. New Orleans converted 9-of-14 on third down, begging the question: how did the Buc defense make five stops?
* Arians doesn't need to say much this week. All he has to do is blow up an image of Winston eating W's and place one in everyone's locker — including the coaches. If there's ample pride in this organization, the midseason lull will give way to a renewed focus.
* Antonio Brown is quiet, for now. He caught three balls but was no factor in this rout. If Brady has time, there will be plays to be made downfield in Carolina. Suddenly, painfully, that's a big if.