Gameday Tampa Bay
November 29th, 2020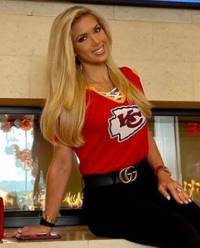 Game 12
Chiefs (9-1) at Bucs (7-4)
Kickoff: 4:25 p.m.
TV: CBS (WTSP-TV Channel 10, locally).
Streaming: Fans may stream the broadcast from Buccaneers.com or on a mobile device using one of the following: Buccaneers official app, CBS All Access app or Yahoo! Sports app. Geographic restrictions apply.
Radio: Buccaneers Radio Network WXTB-FM 97.9 in the Tampa-St. Petersburg region; 97.9 FM ESPN Radio in Tallahassee (Transmisiones de radio en español en WTMP-FM 96.1 y WMGG-AM 1470 en Tampa); SiriusXM Channel 81 (Bucs broadcast).
Weather: Nice weather. Chamber of Commerce weather. Real estate agents weather. Per AccuWeather.com, look for a kickoff temperature of 82 under sunny skies. The temperature will drop quickly when the sun sets and should be 72 by game's end. Winds should be around 7 mph.
Odds: Per BetMGM, as of Saturday evening, Chiefs -3.5; 56-under.
Outlook: On paper, this game looks downright ugly for the Bucs. If you think it was ugly how the Rams on Monday night dinked and dunked on the Bucs and turned six-yard catches into 20-yard plays, brace yourself. The Chiefs excel at that and have better weapons. This is no takedown of the Rams weapons in any way. But, Pat Mahomes > Jared Goff and it is not close. Travis Kelce > Cooper Kupp. Cheetah Hill > Robert Woods. Clyde Edwards-Helaire > Cam Akers. With the wheels Hill has, imagine him running through the Bucs defense on a short pass. Joe honestly doesn't know how the Bucs will stop the Chiefs. Bucs defensive coordinator Todd Bowles loves to blitz. But you can't blitz this Mahomes. The only way Joe can see the Bucs winning this is if the Bucs go ground and pound. Here's the rub: We don't know if the Bucs are going to be decimated on the left side of the offensive line. As of late Saturday, Adam Schefter had indicated the statuses of Donovan Smith and Ali Marpet, both game-time decisions. That's a promising sign. If Smith and Marpet can go, the Bucs need to pound the Chiefs. Only three times this year have the Chiefs not allowed over 100 yards rushing on the ground. The least they have given up is 84 yards in a game. They even allowed the crappy Jets to rush for 93 yards. The Chiefs have a pass rush and a decent secondary. But they are vulnerable on the ground. If Marpet and Smith can play, this is a matchup advantage for the Bucs. The trick is, can Bucs coach Bucco Bruce Arians bite the bullet and keep the ball on the ground? That way you also keep the ball out of Mahomes' hands. Also, when Arians fielded questions about Brady losing it as far as long passes, Arians mentioned how the Bucs will throw long if the defense dictates it. Joe fears defenses are doing just that, taking away short and intermediate passes and forcing if not daring Brady to throw long. If the Bucs drop this game they fall to 7-4 and in Joe's eyes will need to win three of the final four games to get a wild card berth.
Gulp.
Trinkets: … Chiefs QB Patrick Mahomes completed 34 of 45 passes (75.6 percent) for 348 yards and 2 touchdowns with one interception last week. He has passed for 1,561 yards (312.2 per game) and 14 touchdowns against an interception in his past 5 games. Mahomes has 2+ touchdown passes in 5 of his past 6 road games. He leads the NFL with 3,035 passing yards and ranks third with 27 touchdown passes. … RB Clyde Edwards-Helaire rushed for 69 yards and career-high 2 touchdowns last week. He tries for his third game in a row with a touchdown. Has 513 scrimmage yards (102.6 per game) and 3 rushing touchdowns in 5 games on road in 2020. CEH ranks second among rookies in scrimmage yards (887) and rushing yards (655). … RB Le'Veon Bell rushed for his first touchdown of the season last week. He had 109 scrimmage yards (63 rushing, 46 receiving) in his only career game against the Bucs in September 2014 with the Steelers. Bell has 100+ scrimmage yards in 4 of 5 career games against NFC South teams. … WR Tyreek Hill had 102 receiving yards and a touchdown on his season-high 11 catches last week. Hill looks for his fifth in a row with a receiving touchdown. Hill also is trying for his fourth game in a row with 95+ receiving yards. He has 10 receiving touchdowns, tied for second-most in the NFL. … TE Travis Kelce had 8 catches for a team-high 127 yards last week. He's trying for his fourth in a row with 8+ catches and 100+ receiving yards. Kelce had 7 catches for 108 yards in the last meeting against the Bucs in November 2016. Kelce leads NFL TEs in catches (66) and receiving yards (896) and is tied for the lead in touchdowns (7). … S Daniel Sorensen had an interception last week. He has 9+ tackles in 3 of the past 4 games. Looks for his fourth in a row on the road with a pick. … S Tryann Mathieu has 5+ tackles in 3 of the past 4 games. … CB Charvarius Ward looks for his fourth in a row with a pass defended. … CB Bashaud Breeland tries for third in a row with 6+ tackles. … LB Anthony Hitchens had 6 tackles and a tackle-for-loss last week. Hitchens hopes for a third in a row with 6+ tackles. … Bucs QB Tom Brady has 2+ touchdown passes in 3 of his past 4 games at home. He has 250+ passing yards in 2 of his past 3 against Kansas City. Ranks fourth in the NFL with 25 touchdown passes. Has 15 seasons with 25+ touchdown passes, second-most in NFL history (Peyton Manning with 16 is the other.) Brady needs 45 passing yards to tie Hall of Famer Brett Favre for the most seasons with 3,000+ pass yards in NFL history. … RB Ronald Jones has 50+ scrimmage yards in 4 of his past 5 games against AFC teams. … RB Leonard Fournette had a rushing touchdown last week. He had 94 scrimmage yards (66 rushing, 28 receiving) in his only career game against the Chiefs in September 2019 with the Jags. … WR Mike Evans had a touchdown catch in Week 11 and tries for his third in a row with a receiving touchdown. Evans had 105 receiving yards in last meeting. He is 1 of 3 WRs (Davante Adams and Cheetah Hill are the other two) with 5+ touchdown catches in each of past 5 seasons. … WR Antonio Brown had a team-high 8 receptions for 57 yards last week. He has 44 games with 8+ catches since 2011, most in the NFL. He has 38 receptions for 563 yards (93.8 per game) and 4 touchdowns in 6 career games against the Chiefs. Brown tries for his third in a row against Kansas City with 8+ receptions. … WR Chris Godwin had 7 catches for 53 yards and a touchdown catch last week. He has 5+ receptions in 6 of his 7 games this season. … TE Rob Gronkowski has 3 receiving touchdowns in 4 career games against the Chiefs. … LB Lavonte David had 9 tackles and tied his career-high with 3 tackles for loss last week. David had a forced fumble when the Bucs last played the Chiefs. … LB Devin White ranks second in NFL with 97 tackles. He is looking for his fourth in a row at home with 9+ tackles. … LB Jason Pierre-Paul had his fourth-career interception last week and tries for his third in a row with an interception. … LB Shaq Barrett has a sack in 2 of his past 3.
The Last Word: The last time the Chiefs beat the Bucs was at the Old Sombrero in September 1993. The Chiefs had some guy at quarterback named Joe Montana.
The Bucs have a top-10 defense this year, but they'll have their work cut out for them vs. Patrick Mahomes, Tyreek Hill and Travis Kelce! 😳
#ChiefsKingdom #GoBucs pic.twitter.com/Ng4VIIfoJt

— GMFB (@gmfb) November 28, 2020