Chiefs Vs. Bucs, TV Map
November 28th, 2020
Joe never expected to see this.
Wanna know where you can watch the Chiefs-Bucs game tomorrow afternoon on free TV? Joe's here to help.
This shocked Joe. Unless you happen to live in parts of Colorado or Wyoming, you will be able to watch the Bucs on your local CBS affiliate.
That's right, even our fellow Americans in Hawaii and in Alaska. The whole friggin' county (minus regions of Colorado and Wyoming).
And soitenly a good place to watch the game is at Big Storm Brewery in Clearwater or at your neighborhood Hooters.
CBS Sports has assigned Jim Nantz, Tony Romo and Tracy Wolfson to handle the broadcast duties. (Streaming and radio broadcast information will be included in "Gameday Tampa Bay" scheduled to publish here at midnight.) As always, TV coverage maps are courtesy of 506sports.com.
To paraphrase Haray Caray's call of Stan Musial's final at-bat: Take a good look, fans. Take a good look. This might be the last time. Remember the color. You are not likely to see the likes of this map again.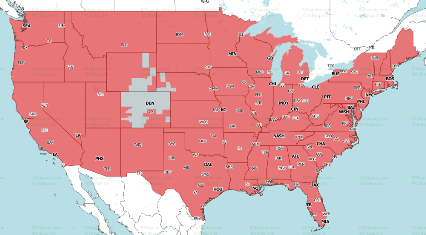 Red: Kansas City @ Tampa Bay
Gray: No game.