Gameday Tampa Bay
November 23rd, 2020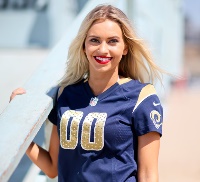 Game 11
Rams (6-3) at Bucs (7-3)
Kickoff: 8:15 p.m.
TV: ESPN and WMOR-TV Channel 38.
Streaming: Fans may stream the broadcast from Buccaneers.com or on a mobile device using one of the following: Buccaneers official app, NFL app or Yahoo! Sports app. Geographic restrictions apply.
Radio: Buccaneers Radio Network WXTB-FM 97.9 in the Tampa-St. Petersburg region; 97.9 FM ESPN Radio in Tallahassee (Transmisiones de radio en español en WTMP-FM 96.1 y WMGG-AM 1470 en Tampa); SiriusXM Channel 83 (Bucs broadcast) and SiriusXM Channel 88 (Westwood One national broadcast).
Weather: Nice football weather. Per AccuWeather.com, look for a kickoff temperature of 65 degrees under clear skies with minimal wind and the temperature will slowly decreasing to 62 by the game's end.
Odds: Per BetMGM, as of noon Monday, Bucs -4; 48.5-under.
Outlook: Big game for the Bucs, as will every one from here on out. If the Bucs hope to keep a prayer of winning the division with Drew Brees out, a win over the Rams is key. Also, if the Bucs stay in the mix for the NFC South crown, owning a tiebreaker with Rams would be nice, as well. Also, having the tiebreaker for a wild card berth over the Rams could be big, too. The Rams have a dangerous offense and a stiff defense. Bucs quarterback Tom Brady's kryptonite is pressure up the middle. Oh, hello Aaron Donald! He will be going against two backups tonight: Ryan Jensen at left guard (who doesn't play like a backup) and old NFC West foe A.Q. Shipley at center. Joe isn't too concerned about Jalen Ramsey. Why? Well, he's excellent but how is he going to guard Chris Godwin, Mike Evans and furniture-tossing, bike-throwing Antonio Brown all on the same play all night? Basically, Brady needs just enough time to identify Ramsey and not throw his way. Easy if you have time. Difficult if you don't. This could be a battle of wills for these two teams. The Rams have only had one game where they didn't rush for over 100 yards. The Bucs have only given up 100 yards on the ground twice all year and it was two of the worst games the Bucs have played this season. Joe is guessing whichever team wins that battle likely wins the game. Key here is if the Bucs try to expose projected starter at left tackle Joe Noteboom. Veteran left tackle Andrew Whitworth went down last week and is gone for the regular season. Noteboom is a guard being flipped over to fill Whitworth's slot. Pressure totally rattles Rams quarterback Jared Goff. Can the Bucs expose this Noteboom with Jason Pierre-Paul or Shaq Barrett and get in Goff's head? That will be key as well.
Trinkets: … Rams QB Jared Goff passed for 302 yards last week and looks for his third in a row with 300+ yards. Has 300+ passing yards in 3 of his past 4 road games. He set career-highs in completions (45) and passing yards (517) in the last meeting with Bucs, last year in Los Angeles. Goff has 23 games with 300+ pass yards since 2017, second-most in NFL. … RB Malcolm Brown had 2 rushing touchdowns in Week 10, his third-career game with 2 touchdowns and tied his career-high with 5 rushing touchdowns this season. … RB Darrell Henderson had his fourth rushing touchdown of the season last week. Has 4 touchdowns (3 rushing, 1 receiving) in his past 5 on the road. … WR Cooper Kupp had 9 receptions for 121 yards and a receiving touchdown in the last meeting with the Bucs. He has 5+ receptions in 7 of his past 8 games. Kupp has 60+ receiving yards in 4 of his 5 road games this season. … WR Robert Woods had 13 receptions for 164 yards in the last game against the Bucs. He has 6 touchdowns (4 receiving, 2 rushing) in his past 5 on the road. Woods looks for his fifth in a row on the road with a receiving touchdown and 6th in a row on the road with a touchdown. … WR Josh Reynolds led the Rams and set career-highs with 8 receptions for 94 yards last week. … DL Aaron Donald has 7 sacks and 3 forced fumbles in his past 4 on road. Donald has 7 tackles for loss in 4 career games against the Bucs and looks for his fifth in a row facing Tampa Bay with a tackle for loss. Donald led the NFL with 81 sacks in 2014. He is tied for second in the NFL with 9 sacks in 2020 and is 1 of 4 players since 1982 with 8+ sacks in each of his first 7 seasons. … LB Leonard Floyd had a career-high 3 sacks and his fifth-career fumble recovery in Week 10. Floyd looks for his third in a row with a fumble recovery. … Rookie LB Terrell Lewis had his first 2 career sacks last week. … LB Micah Kiser led the Rams with 12 tackles last week, his third 10+ tackle game of the season. … CB Darious Williams had his first-career 2-pick game last week. Kiser looks for his seventh straight game with a pass defensed. … Bucs QB Tom Brady passed for 341 yards and 3 touchdowns vs. 0 interceptions last week. He has 8 career games with 300+ pass yards, 3+ touchdown passes and a rushing touchdown, most in NFL history. Brady has 8 touchdowns against 2 interceptions in 4 career regular-season starts against the Rams. Brady ranks fourth in NFL with 23 touchdown passes and needs 2 touchdown passes to join Peyton Manning (16) as the only players with 15 seasons of 25-or more passing touchdowns. … RB Ronald Jones had a career-high 192 rushing yards, including a 98-yard rushing touchdown, in Week 10. RoJo became the fourth player (HOFer Tony Dorsett, Ahman Green and Derrick Henry) to record a 98-yard or longer rushing touchdown in NFL history. RoJo has 100+ rushing yards in 2 of his past 3 home games. … RB Leonard Fournette rushed for 130 yards and a touchdown in his only career game vs. Rams in October 2017 with the Jags. … WR Mike Evans had 77 receiving yards and a touchdown catch last week. He has 427 receiving yards (106.8 per game) in 4 career games vs. Rams. Evans looks for his third in a row vs. Rams with 85+ receiving yards and a touchdown catch. Evans is 1 of 2 (Travis Kelce) with 5-or more receiving touchdowns in 6 of the past 7 seasons. … WR Chris Godwin had 92 receiving yards last week. He had a career-high 12 receptions for 172 yards and 2 receiving touchdowns in the last meeting. … WR Antonio Brown had 7 receptions for 69 yards in Week 10. … TE Rob Gronkowski had his fourth receiving touchdown of the season last week. … LB Lavonte David had an interception in last meeting. David looks for his 7th in row vs. Rams with 7+ tackles. … LB Devin White is the only player with 80+ tackles (88) and 5+ sacks (5) in 2020. … LB Shaq Barrett had a sack in the last meeting. He looks for his third in a row with a sack. … LB Jason Pierre-Paul is 1 of 2 players (Aaron Donald is the other) with 7+ sacks in the past five seasons, 2016-2020.
The Last Word: Tonight's game is the Rams' fifth trip to the eastern time zone in the past nine weeks.
The @Buccaneers vs. The Greatest Show on Turf 20 years ago on MNF. This game was WILD. (Dec. 18, 2000)

📺: #LARvsTB — Tonight 8:15pm ET on ESPN
📱: NFL app // Yahoo Sports app pic.twitter.com/0YdEento0N

— NFL Throwback (@nflthrowback) November 23, 2020
---
Ira Kaufman Talks Why/How He Guarantees A Bucs Playoff Berth, Pro Bowl Bucs, The Success Key Down The Stretch, Leftwich's Audition, And A Very Deep Dive On Tonight's Bucs-Rams Game, And More