"Full-On Crisis"
November 30th, 2020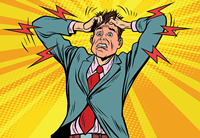 Just a few weeks ago the Bucs looked like they were still in the race for the NFC South title, and a playoff berth seemed very likely.
Now? Joe's about ready to jump off the Sunshine Skyway Bridge.
Yes, there are two Joes at JoeBucsFan.com world headquarters. One Joe is brimming with confidence the Bucs are all but in for a playoff berth. The birds are singing and the sun is shining. All is well.
The other Joe is in panic mode. Playoff teams don't suddenly play like 4-12 teams in the month of November. Playoff teams don't see their quarterback come physically unglued whether it is constant misfires on long passes or a newfound habit of throwing picks when trying to fight back in a game.
Playoff teams don't give opponents three-score leads in the first quarter; playoff teams don't come out with gameplans so poor (or so poorly executed) that opponents treat them worse than the Jets.
Playoff teams don't allow a wide receiver to gain 200 yards receiving much less allow him to stand on the goal line, taunt defenders and then do a backflip into the end zone when a sorry defender finds the courage to go after him.
Playoff teams don't look like they are coached by Lovie Smith.
Every example above is what the Bucs did yesterday and in other games the past month. And Joe's good friend Mike Tanier of Pro Football Network believes Bucs fans have every right to freak out and start eating valium like M&Ms.
In the last month, the Buccaneers have gone from Super Bowl short-listers to the top of the Wild Card chase to the playoff bubble. And Brady is the team's biggest problem: He threw five touchdowns and seven interceptions in those three losses, the Buccaneers passing game disappears for whole quarters at a time, and the best result on most of his wobbly deep throws is a possible pass interference penalty or a Breathing on Brady foul. (To be clear, both roughness calls against the Chiefs this week were legit and dumb). Brady is playing at a Kirk Cousins level, and the Bucs are getting Kirk Cousins-caliber results.

NFL Recap has been warning anyone who would listen since before the beginning of the season that the Buccaneers look like a 10-6 Wild Card team with the payroll and expectations of a prohibitive Super Bowl favorite. That's never been more clear than it is right now.

With Antonio Brown (just two catches on Sunday) joining Evans, Rob Gronkowski, and a cast of thousands, it's impossible to give Brady any more weapons. The Buccaneers defense has found its level against tougher opponents but is still rock solid when not faced with Hill in full Cheetah mode. The Bucs have maxed out as a team that consistently loses to the type of opponents they will be forced to face in the playoffs. They're a Wild Card round disaster waiting to happen.
"This Joe" isn't convinced the Bucs will sweep the Dixie Chicks. And "this Joe" would not lay cash on the Bucs to beat the Vikings.
And if the Bucs do circle the drain, which they have demonstrated this past month they are capable of doing, Tanier went so far as to type that park-violating, home-invading, NFLPA-ignoring, down-forgetting, jet ski-losing, handshake-stiffing Bucs quarterback Tom Brady should save any further embarrassment to himself or tarnish his legacy and do the right thing by calling it a career.
Yes, the Bucs looked that bad in November.