Five Things
November 30th, 2020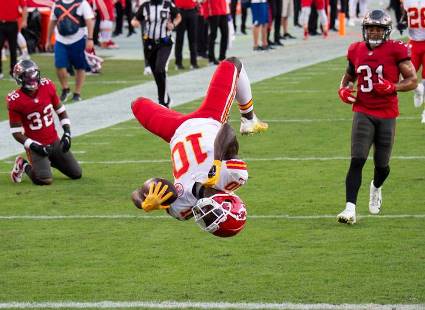 Ugly game and a possibly frightening near future for the Bucs. But let's dive in and get this Monday rolling.
Not-so-fast starts.
Former Bucs coach Dirk Koetter always talked about fast starts. He always said they were critical.
This season we are finding out the hard way that no matter how much talent on a roster, if you have a lousy gameplan and get boat-raced early, your talent will not always be able to bail you out.
Yesterday was a perfect example.
If the Bucs had a better gameplan to fight the Chiefs, perhaps they would not have been down 17-0 and for all practical reasons out of the game.
If the Bucs had a better gameplan, perhaps they would have trailed by only, say 10-0. That's not insurmountable.
Just like Bucco Bruce Arians and his staff went to the laboratory and made major changes to how they approached night games, during this bye week, Arians and his biggest and brightest staff have to self-scout their awful and off-target gameplans.
The team makes in-game adjustments just fine. Too often, those are too late. Like yesterday.
Unleashing RoJo.
Yesterday Ronald Jones didn't have a prayer. The Bucs got behind so damn quick and so deep, the Bucs could not afford to run much.
It seemed RoJo was on his way to a big day but it got sidetracked by the score.
RoJo averaged 7.3 yards a carry, finishing with 66 yards on nine rushes. Joe believes if RoJo could have gotten the ball, say, 20 times, the Bucs would have won.
When the Bucs rush for 100 or more yards this season, they are 4-1. The one loss was by one point on the road to the Bears and, even then, Joe thought the Bucs pulled the ball out of RoJo's hands too early.
If you can read the Bucs do well when they run for over 100 yards and Joe can read that the Bucs do well when they rush for over 100 yards in a game, why can smart football coaches employed by the Bucs making six- or seven-figures a year notice this?
Mike Evans, touchdown maker.
With four games to go, it seems a safe bet that Mike Evans, who caught two touchdowns yesterday, will reestablish his franchise record for most touchdowns in a season.
Evans owns the record of 12 touchdowns (in 2014 as a rookie and later in 2016). His 11 this season is tied for the NFC led and is one behind, guess who, Tyreek "Cheetah" Hill of the Chiefs.
Tough guys.
Joe has a hunch that the Bucs wouldn't have had a prayer yesterday if left tackle Donovan Smith and left guard Ali Marpet sat out.
Smith is a tough guy. He takes pride in never missing starts. The Penn State product has missed one start in his six NFL years. That's what you call durability.
A few years ago Smith happened to have had one of his worst games as a pro in New Orleans. When Smith is bad, he usually has a really bad game. He injured his ankle that day and had to be replaced. Joe remembers seeing him walk out of the locker room in a boot. He said he would be fine.
Sure enough, Smith started the next game. Like clockwork.
So all of last week after Joe reported that Smith was in a boot, Joe remembered that time in New Orleans when Smith was in a boot and he played the next week.
Marpet looked a bit rusty, as he had missed the past three games as he was in the NFL's concussion protocol. But it sure was good to see Marpet back out on the field.
The bye week has arrived at the proper time. The offensive line is thin with the career-ending injury to A.Q. Shipley. So these guys need to recharge badly for the four-game stretch run.
The Den of Depression.
Joe nicknamed the Tampa Bay stadium on Dale Mabry Highway the "Den of Depression" years ago because of the Bucs' inability to win there.
Bucs fans and some who work at One Buc Palace just go into orbit whenever they read Joe writing "Den of Depression." Yet it is fully out of Joe's hands.
For folks at One Buc Palace, however, it is very much in their power to determine the right players and right schemes and right plays to execute when blocking and tackling on the grass of the Den of Depression.
Joe doesn't do any blocking, tackling, catching, throwing, kicking or running on that field, or any NFL field. Wins and losses are totally out of Joe's hands. The Bucs have the worst home record in the post-Chucky era in the NFC.
That's a fact. And that is pitiful.
Yet some consider Joe the bad guy in this issue.
In some markets, the Bucs would get killed for that awful home record. Hell, in Cleveland, Joe would have to look up the name of their crib because so many in the Cleveland media refer to it as the "Factory of Sadness."
The Browns have the worst AFC home record in the post-Chucky era (5-1 this year).
Joe vowed years ago that if the Bucs only win five home games in one season, Joe will drop the moniker. Five home wins in one season. Is that really too much to ask?
Yet the Bucs, after yesterday's loss to the Chiefs, their third consecutive home loss, now need to win both of their final 2020 home games to reach that five-game threshold.
If a team can never, ever have a winning home record, if the odds are greater when you buy tickets you will see a loss than a win, then why would you even want to attend a game in-person and fight the crowds and the traffic and the costs and, of course, the heat?
If you knew there was a better than a 50/50 chance that a movie would be garbage, the popcorn stale and the soda warm when you go to a theater, you wouldn't go, would you?
And people wonder why the Den of Depression has had so many empty seats.
The Bucs just completed an awful November. So bad that it would not shock Joe one bit if the Bucs only won four home games this fall.
And thus, the handle "Den of Depression" would survive yet another year.
Remember guys, five wins at home in one regular season and that nickname goes bye-bye. That's not too much to ask.