Devin White Talks Tom Brady, Antonio Brown
November 2nd, 2020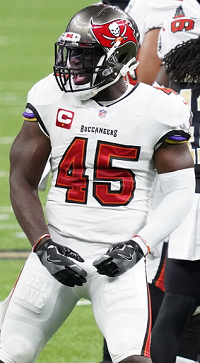 The Buccaneers' savior linebacker is the reigning NFC Defensive Player of the Week and he also has a budding friendship with Brett Favre.
That led to Devin White to join Favre on SiriusXM NFL Radio last week for a long chat.
A couple of highlights:
White had a fast answer when asked how Tom Brady makes the Bucs defense better.
"By not turning the ball over and putting us out there in, you know, crazy downs like already being in the red zone or what not," White said.
He added that Brady keeping the defense off the field and away from fast turnarounds caused by turnovers makes the unit more lethal. " So every time we can go out there and fly around."
As for mercurial felonious receiver Antonio Brown, man, White was fired up when he was asked if he worries about Brown poisoning a unified Bucs locker room.
"No. I don't worry at all. I'm glad that we got him," White said of Brown. "You know, he's a great player. Just stepping back in the NFL, he's one of the top receivers in the NFL, man. Can't nobody take away his ability. From what I've seen on Hard Knocks and stuff, he's one of the hardest working practice players, so I know he will complement Tom Brady well because Tom Brady practices so hard. So we're just getting another weapon and I want to win."
Joe is excited to see what White delivers against the Giants tonight. New York won't run the ball on the Bucs and they're offensive line is poor. White has four sacks this season; Joe wouldn't be surprised to see White rack up Nos. 5 and 6 with Todd Bowles blitzing repeatedly and Daniel Jones attempting to scramble.