Bruce Arians: "Win The Coin Toss"
November 6th, 2020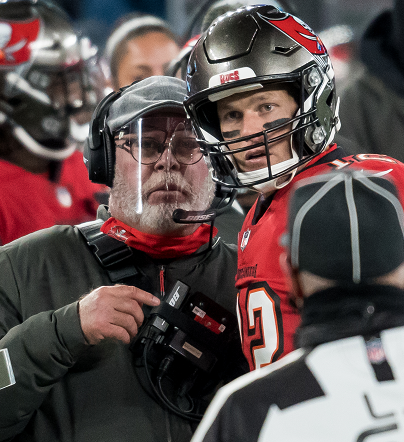 What's always open to interpretation is the subject of football luck.
Take the Bucs' win at the Giants. There are many ways to interpret what was seen. It all depends on your perspective.
Were the Giants lucky the Bucs went for two when they didn't have to early in the third quarter, effectively making it a one-score game (instead of two) for the Giants' final drive? That was the same drive that saw Lavonte David drop a game-ending interception.
Were the Giants lucky that Ronald Jones fumbled very deep in his own territory? He's not a fumbler.
Some think the Bucs were very lucky that Giants QB Daniel Jones was off-target on deep throws to receivers covered/non-covered by Jamel Dean. There also was the matter of the final play of the game, which saw a pass interference call on Antoine Winfield in the end zone overturned by officials.
Game-changing plays and non-plays, and how they shed light on a team's performance, are always open to interpretation.
Bucco Bruce Arians was asked this week on SiriusXM NFL Radio about his mindset when Winfield was flagged with seconds remaining. The head coach had a fantastic and candid response. "Win the coin toss," Arians said, referring to looming overtime.
The coin toss line really underscored for Joe that you often need luck on your side in football to find a "W" in a tight game, especially the kind the Bucs are expecting Sunday night against New Orleans. Maybe this is the year (Bears game aside) the Bucs get the majority of the breaks?