Bruce Arians: "We Barely Knew What The Heck We Were Doing"
November 6th, 2020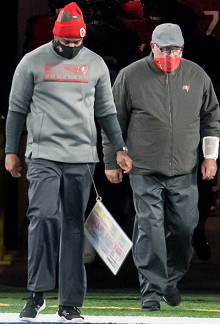 Joe wonders what hardcore gamblers might think when they read this and think back to their early wagers on the Bucs.
Twice this week, once on his radio show and once on SiriusXM NFL Radio, Bucco Bruce Arians explained that his offense has improved so much from opening day, in part because it was quite clueless in Week 1 against the Saints.
"Offensively, we barely knew what the heck we were doing," Arians said of his first meeting with New Orleans.

"We turned it over twice, and the kicking game was horrendous in that ballgame."
It's noteworthy that Arians mentioned the kicking game. He added that special teams overall have improved greatly since Week 1, and Joe thinks that could be a huge key on Sunday night against the Saints.
Sean Murphy-Bunting missed a couple of special teams tackles against the Giants, but overall, the Bucs have significantly narrowed what was a massive gap with the Saints in the area of special teams.
As for the Bucs offense, after dissecting the comments of Arians and players and looking at the film, Joe thinks it's safe to say the Saints will be taking on a Bucs offense they've never seen before.