Bruce Arians Shares Disappointment In Linebacker Tandem, Nose Tackles
November 4th, 2020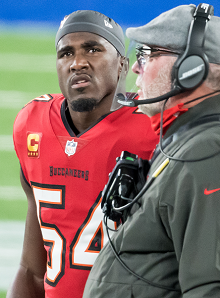 There is a very high standard for defense at One Buc Palace.
This isn't 2017 or 2018.
This was evident from Bucco Bruce Arians' chatter last night.
Devin White and Lavonte David? The beastly Bucs linebackers drew uninspiring grades from their head coach for their Monday night play.
"It thought it was just average for really both of those guys. I mean, I expect more out of both of them," Arians said. "Boy, Lavonte dropped a huge interception that would have iced that ballgame and that's not like him; he always makes that play. So yeah, I think, you know, they played good, don't get me wrong, but I expect great out of them every week."
Arians gave some credit to the Giants and to some non-calls against White by officials, but ultimately he put it back on his players. "There's a level of expectation for our defense that I don't think we lived up to in this ballgame," Arians said.
As for the very rare hiccups by the run defense, Arians said point more toward the Bucs versus crediting the Giants.
"Yeah, we misfit a couple of runs, which is unlike us," Arians said. "I thought our pad level was a little bit high. We didn't get much production out of our two nose tackles that we normally do, so I think it was more us than them."
Joe loves the high standards Arians has — and is willing to share with fans.
These Arians quotes above are from Bucs Total Access.