Bruce Arians: Sacks Were On Tom Brady
November 4th, 2020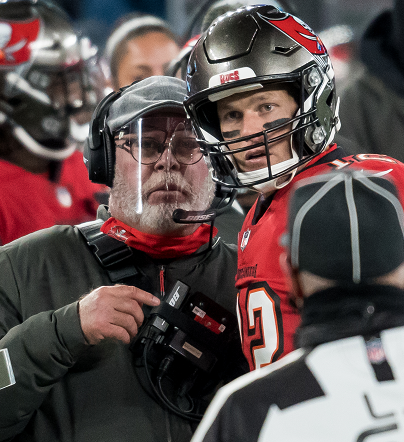 Just how great is the Buccaneers' offensive line pass blocking?
Prior to the Bucs' victory over the Giants on Monday, Tom Brady hadn't eaten a sack since that troublesome night in Chicago on Oct. 8. The O-line was doing tremendous work keeping the legend clean.
And per Bucco Bruce Arians, the two sacks Brady ate against the Giants shouldn't have happened — because they were on the quarterback.
"That O-line was fine. We just, they were coverage sacks. We got to throw the ball away or git rid of it," Arians said. "Both those times [Brady] had plenty of time to throw. We had to get open faster."
Yes, that's how well the Bucs are pass blocking. Brady's 10 sacks this season represent the lowest total for a QB that's thrown for more than 2,000 yards this season.
Keeping Brady clean and healthy was the No. 1 key to the season, and halfway through the guys around Brady get an "A" grade.