Betting On Mike Evans
November 25th, 2020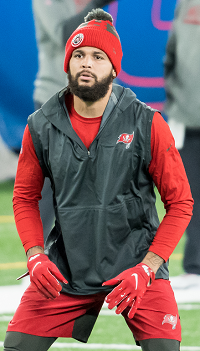 Joe is fired up as the Bucs' playoff march nears its final miles.
And an exciting trend has emerged.
Mike Evans' targets are increasing and he's obviously getting healthy. Just think back to that manly of manly touchdowns he scored Monday night.
Catch the ball at the nine with your momentum going away from the end zone, and then drag two quality Rams defenders in for a touchdown because you refuse to go down. Evans then rifled the ball into the stands in ecstasy and it became ridiculously obvious that his body is back to 100 percent.
Chris Godwin also is healthy. He had his highest target total of the season against the Rams (10), and Godwin played 99 percent of the snaps in a typically do-it-all game for him. Evans has 20 targets over the last two games after averaging less than 6 per game before that run.
The dynamic duo truly is back healthy for the first time since Week 14 of last season.
Joe really wants to see Evans reach the 1,000-yard mark to set the NFL record for most consecutive seasons to start a career with 1,000 yards or more receiving. Evans has 563 yards with five games remaining. That means he must average 87.4 yards per game to get there.
Joe's not betting against Evans, though Tom Brady's deep-ball woes might be an obstacle. If Evans has one big game, say 122 yards receiving like he had against the Chargers, then the goal gets easier.
On Sunday against the Chiefs, Evans will face the last good defense he'll see during the regular season. The pass defenses of the Vikings, Lions and Falcons (two games remaining) are poor. Atlanta is allowing more than 300 yards per game through the air.
Even if Evans falls short of 1,000, one cool thing is that he'll end this year, barring injury, almost guaranteed to hit 8,100 career receiving yards. That's good enough to land him in the top-100 of all-time.