Arians' Comparison For Aaron Donald
November 19th, 2020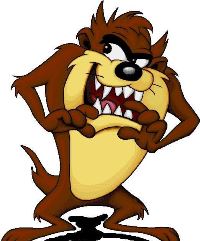 Today when Bucs coach Bucco Bruce Arians was asked how he would describe Rams beastly defensive end Aaron Donald, he snickered to himself and reached back into a Saturday morning staple of his youth.
Confessing that likely only "us old guys know what that cartoon looks like," Arians said Donald was a football version of the "Tasmanian Devil." The Looney Tunes creature arrived in a cyclone and spit and growled and grunted and snarled, leaving scorched earth and wreckage in his path before arriving at the feet of Bugs Bunny.
"He's non-stop," Arians said. "He's [got] great get-off. He has a toolbox of moves that is second to none. He's just a helluva football player."
Donald has nine sacks through nine games, tied with T.J. Watt for third-most in the NFL. He's on track to have the second-best season of his career in sacks. Donald had 20.5 two years ago, which is insane for a guy playing  a inside a 34-defensive front.
The last two years, Donald has led the NFL in tackles for loss with 20 in 2019, and 25 in 2018.
So yeah, the Bucs' offensive line better come with its A-game Monday night if they hope to run or throw without Donald becoming a gamewrecker.
So perhaps Arians can do to Donald what Bugs Bunny always did to the Tasmanian Devil? The reason Bugs Bunny never got eaten by the Tasmanian Devil was, before the cartoon finished, Bugs Bunny always found a way to outsmart him.