Your NFL Penalties Leader
October 9th, 2020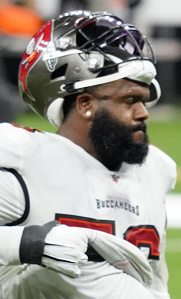 Donovan Smith has more penalties in five games than he did all last season.
In fact, he leads the NFL — with a teammate right behind him.
This is unacceptable for a sixth-year veteran earning $14.5 million this season.
After tonight's mess, Smith has seven penalties in five games. Carlton "Flags" Davis has six. Demar Dotson and Shaq Barrett led the Bucs last season with 10 each, while Davis had nine.
The Bucs have two offensive line coaches and it's not like Smith is distracted because he has to help out a rookie or inexperienced left guard next to him; Ali Marpet is a strong and clean player having a good season.
Smith just has to keep his head in the game consistently, but he hasn't done that in 2020. At this rate, he'll have a new team in 2021.