"We Hit The Lotto On That One"
October 30th, 2020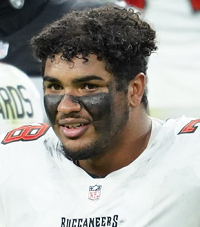 Imagine if somehow at the end of the season, Buccaneers took home awards for offensive rookie of the year, defensive rookie of the year, MVP of the league, coach of the year, assistant coach of the year and executive of the year.
After seven games of the Tom Brady era, it all seems possible.
Fun times. Joe loves this alternate Bucs universe.
Yesterday, Joe asked Buccaneers head coach/run game coordinator/offensive line coach Harold Goodwin to reflect on his 16 years of coaching NFL offensive linemen and talk about what rookie right tackle Tristan Wirfs has accomplished and where he ranks as a rookie.
There was no hesitation to put Wirfs atop the ladder.
"I would think he's a legitimate probably Pro Bowl type player," Goodwin said. "I don't know what else is out there because I don't watch all the rest of the teams. But, you know, he's been phenomenal. I don't remember a rookie having such an impact on an offensive line, probably since Maurkice Pouncey back in Pittsburgh."
Goodwin coached on that 2010 Steelers team with Pouncey and Bucco Bruce Arians. Pouncey was a rookie Pro Bowler at center and Goodwin knows what kind of jackpot that represents.
"We hit the lotto on that, as far as our organization getting [Wirfs] in the draft," Goodwin added. "Jason did a great job. [Bruce Arians] did a great job, and ownership allowing us to trade up to get him, that was as huge, huge move for our team."
What makes the Wirfs pick even more fun is that he's the brightest light among the "Big 4" in the first-round of the 2020 draft.
Nailing a first-round pick that performs from Day 1. Yes, that's definitely a Lotto ticket in the NFL. Not since Mike Evans have the Bucs pulled that off.