"Watch How Fast Godwin And Evans Get Healthy And Stay Healthy"
October 30th, 2020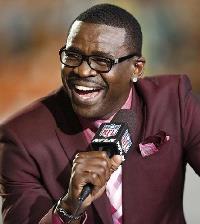 Outspoken Hall of Fame receiver and broadcaster Michael Irvin knows all about wide receivers — in addition to brushes with authorities.
This week he used his bully pulpit to talk Bucs receivers.
Irvin made his way to the most popular sports radio station in the land, WFAN in New York. There he bellowed like only he can about the Bucs' Lloyd's of London insurance policy named Antonio Brown (whose regular season stats are more impressive than Irvin's.)
A fixture on NFL Network, Irvin loves the signing for the Bucs, and he said fans should take note of the healing Brown's presence will bring.
"Watch, the human nature and the nature of this beast, the meritocracy that we are living in now, watch how fast [Chris] Godwin and [Mike] Evans get healthy and stay healthy," Irvin said.
Fun stuff from Irvin, but there's a tinge of NFL reality there. Astute fans know there's a lot of funny business in the NFL when it comes to reporting, revealing and discussing injuries. Lines are blurred all over the place.
Joe's not against it at all, but it's certainly interesting.
Last week, Bucco Bruce Arians said after the Raiders beating, via the Buccaneers Radio Network, that Mike Evans said he was 80 percent healthy for the game. Evans didn't really look himself on the field, though he showed more flashes late in the game.
Interestingly, Evans did not appear on the Buccaneers' official Thursday injury report, the first of this week. That means he's practicing normally and "healthy," which sort of jibes with Irvin's premise.
Joe's not accusing anyone of anything. But what Irvin said has merit. All of a sudden there's a new level of competition among Bucs wide receivers, and Joe will guarantee that Evans and Godwin plan to win it.
Mike Evans not listed on the Buccaneers' official injury report! pic.twitter.com/RclGKUuOio

— JoeBucsFan (@JoeBucsFan) October 29, 2020