"They Won That Game Because Tom Brady Was Thinking About That Defensive Front"
October 11th, 2020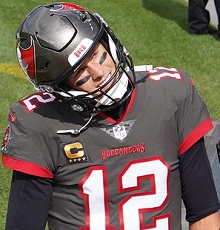 It's fun and maddening to make a big deal about Tom Brady's obvious confusion surrounding what down it was in crunch time Thursday night.
But a glory-days Buccaneer says that's just a distraction from the real Tampa Bay issue.
Keyshawn Johnson, a 1,088-yard receiver during the Bucs' Super Bowl season, was bellowing on ESPN Radio about how Brady was rattled by the Bears' pass rush. And when that happens, per Johnson, Brady might as well be Mike Glennon.
"He's just like every other quarterback when you apply pressure to him," Johnson said of Brady.
Johnson said fans should go back and look at many games Brady has lost, noting he struggled against Rex Ryan's Jets teams that rushed him, and against the Giants and Ravens in postseasons, among many other examples.
Brady has 59-game winning drives in fourth quarters and/or overtimes. But the Bears rush got in his head, per Johnson, combined with getting spooked by the loss of absent pass catchers that was just enough to turn Brady mortal.
"They won that game because Tom Brady was thinking about that defensive front," Johnson said.
It's all very bizarre for Joe to think about. Nobody in NFL history has played more situational football than Brady, and he's been coached by arguably the most meticulous staff in NFL history. Yet there he was, looking like an outfielder who didn't know how many outs there were in the bottom of the ninth inning and a runner on third base.
As for the offensive line woes against the Bears, Joe's chalking it up to a bad night and Brady's leadership failing to snap the group out of it.