The Jamel Dean Revival
October 12th, 2020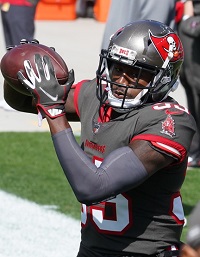 Jamel Dean missed a couple of shots to be a fourth-quarter hero on Thursday, but he did walk away from the game deserving a lot of praise.
Turn on Thursday's film and you'll see Dean had three passes defensed in the fourth quarter, including two shots at what likely would have been game-clinching interceptions.
Unfortunately, he didn't squeeze the footballs, but Dean's play is to be lauded, especially when you compare it to the messy stuff that Sean Murphy-Bunting has turned in the past two games and the inconsistency of Carlton "Flags" Davis (tackling and penalties).
Tied for fourth on the team in combined tackles behind Devin White, Lavonte David and Antoine Winfield, Jr., Dean's tackling numbers are extra good considering he's only played about two-thirds of the Bucs' snaps this season and those ahead of him don't come off the field.
Joe very much likes how Dean is progressing as a 2019 third-round draft pick.