Studying The Blueprint
October 3rd, 2020
BY IRA KAUFMAN
The Lightning toasted their Stanley Cup title with an emotional tribute at Raymond James Stadium.
That seems entirely apropos.
The 2020 Bucs can learn a lot from their hockey counterparts. And if Tampa Bay players absorb those lessons well, no one will be complaining if it's Tom Brady who is drunk on his ass next February, chugging beer after beer on the victory stand instead of Nikita Kucherov.
The Lightning displayed awesome grit, determination and a singular focus while they were wrapped up in that Canadian bubble for two months. They adhered to strict Covid-19 protocols and their enthusiasm proved infectious through four grueling playoff rounds.
The Bucs are proud of their hockey brethren as they continue their own quest for a championship. The next three months will present a series of challenges for Buc players and coaches, but the Lightning just provided a blueprint for success.
ROOM AT THE TOP
You've heard it said many times and it's still true — your best players need to be at their best. We just saw Kucherov, Brayden Point, Victor Hedman and Andrei Vasilevskiy lead the way. Jon Cooper's elite players stepped to the forefront, showing everyone else how it's done.
For the Bucs to realize their full potential, Tom Brady, Mike Evans, Chris Godwin and Lavonte David have to stay healthy, combine forces and showcase a dynamic style. Everyone else will follow suit.
DO YOUR JOB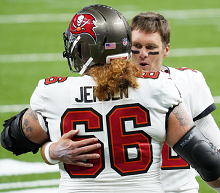 The Lightning's role players also contributed significantly during the championship run. Ondrej Palat scored three game-winning goals and finished plus-14. Yanni Gourde was plus-12 while two of defenseman Kevin Shattenkirk's three goals proved to be game winners. Add in the likes of Pat Maroon, Luke Schhenn and Zach Bogosian and it's easy to see how Tampa Bay's depth was crucial.
"The beauty of our team was everybody chipping in," Point says.
The Bucs have their share of role players as well. William Gholston doesn't get much pub, but he's a key factor on a fierce rushing defense. Ryan Smith leads the way for Keith Armstrong's coverage units. Offensive line anchor Ryan Jensen exudes physicality up front.
ALL FOR ONE
Team captain Steven Stamkos wasn't on the ice for very long, but he made his presence count in Game 3 with a breathtaking goal that inspired a 5-2 victory. The reaction on the Lightning bench was both immediate and captivating.
"Even though Stamkos didn't play, except for the best two minutes of hockey you'll ever see in the playoffs, I'm at a loss for words how much he means to us," Hedman said.
Imagine if Brady shakes loose for a critical 5-yard TD run to key a big win for the Bucs, absorbing a jarring hit on the way to the end zone. The effect on his teammates would be dramatic.
SPECIAL TEAMS
Final tally for the final series against the Stars: Tampa Bay 7 power-play goals, Dallas 1.
Looking back, that was probably the biggest difference in the matchup. The Stars often struggled to even set up in the offensive zone with a manpower advantage while the Lightning moved the puck quickly and decisively from the points to down low.
The special teams of the Bucs have rebounded from a poor Game 1 effort and Tampa Bay needs to sustain that level the rest of the way. Ryan Succop is living up to his reputation as a reliable kicker and that blocked punt in Denver set an aggressive tone for the visitors.
STOPPAGE TIME
No NHL team has more offensive firepower than the Lightning, especially when Stamkos is in the lineup, but Jon Cooper wants to win those 2-1 games. Check out his demeanor after the Lightning prevail 5-4 … he's not happy.
"We used to be a team where it wasn't good enough to beat you 3-0," he says. "We had to beat you 9-0. We had to change that attitude."
The Bucs are finally returning to their roots as a defensive-minded club that imposes its will and capitalizes on short fields and takeaways. While Brady commands most of the attention, it's Todd Bowles and his marauders who will write the story of the 2020 Buccaneers.