RoJo On Pace For 1,148 Yards Rushing
October 9th, 2020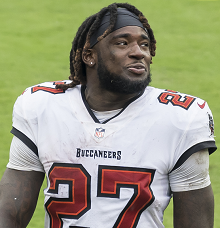 Before last night, it had been five freakin' years since the Bucs had a running back deliver back-to-back games of 100 yards rushing or more.
In October of 2015, Doug Martin reeled off three consecutive games busting the 100-yard plateau.
Last night, Ronald Jones continued his stunning season with 17 carries for 106 yards against a good Bears defense, including another explosive run (37 yards) for the second week in a row.
RoJo is on pace for 1,148 yards rushing this season, and he's averaging 4.85 yards per carry after two strong games to finish the 2019 season. What planet has Joe landed on? Apparently, it's Planet RoJo.
Tom Brady praised RoJo for his hard and explosive running after the game, as did Bucco Bruce Arians.
It sure would have been nice to see RoJo get more touches, especially at least one on the Bucs' three-play, 11-second turnover drive late in the first half that led to a Bears touchdown.