Looking In The Mirror
October 2nd, 2020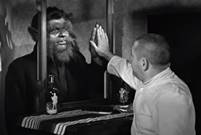 For Bucs fans who watched the weirdly entertaining game last night between the beaten-down Broncos and the circling-the-drain Jets, it was too much of a real flashback.
How many times throughout the Lost Decade did Bucs fans endure a Thursday night Bucs game (or a Monday night) beamed from coast-to-coast only to watch the Bucs shat in their pants before the nation?
How many rotten games did the Bucs play in these night games since Chucky left? Seemingly once a year — until last year when the Bucs beat the Stinking Panthers; the Bucs have Christian McCaffrey's number so well that defensive coordinator Todd Bowles even found a way for Vernon Hargreaves to make a play.
The Jets bungled their way through last night game and the Broncos were not a whole lot better, throwing two picks in the fourth quarter.
But this wasn't the Bucs that Broncos QB Brett Rypien was playing. It was the Jets. Backup running back Melvin Gordon housed a run from 43-yards out (imagine that, one of the lowest teams in the NFL has a backup running back able to run one in from beyond the three-yard line).
It seems the Bucs are on the cusp of putting these garish werewolf-like primetime nightmares behind them. The Bucs are in first place. And now the Bucs are actually expected to beat bad teams, not to play down or lower than bad teams.
Right, Lovie?
Joe couldn't help thinking while watching last night's game that as early as last year, the Jets were the Bucs.
(Question: If the Jets wind up with the No. 1 overall pick, will Trevor Lawrence stay at Clemson?)